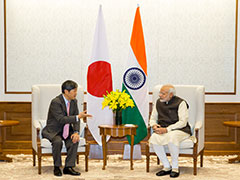 Mr. Kitaoka in talks with Prime Minister Modi

Signing ceremony of the memorandum for the "Detailed Design Study on the High Speed Railway Construction Project in India"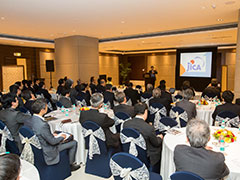 A lecture for Japanese people affiliated with Delhi commercial and industrial associations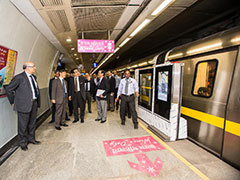 Site visit to Delhi Metro supported by a Japanese ODA loan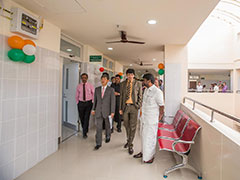 Site visit to the Institute of Child Health and Hospital for Children in Chennai, supported by Japanese grant aid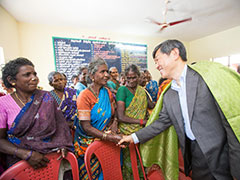 Mr. Kitaoka shakes hands with members of women's self-help groups in Tamil Nadu
JICA President Shinichi Kitaoka visited India (New Delhi and Tamil Nadu) for the first time since taking office in October 2015. He reaffirmed plans to strengthen the special, cooperative relationship with India, which is one of JICA's biggest ODA recipient countries, possessing the world's second-largest population and Asia's third-largest economy.

From Dec. 21 to 23, Mr. Kitaoka had meetings with Prime Minister Narendra Modi; Finance Minister Arun Jaitley; Railways Minister Suresh Prabhu; Urban Development Minister Venkaiah Naidu; Arvind Panagriya, vice chairman of NITI Aayog; Ottakarathevar Panneerselvam, chief minister of Tamil Nadu, and the key ministers of the state government. On Dec. 21, Mr. Kitaoka also delivered a speech to Japanese stakeholders in India including members of the Japanese Chamber of Commerce and Industries, and visited some of the sites of projects that are supported by JICA.

In the talks, Mr. Modi expressed his gratitude and expectation for JICA's activities in India. Mr. Modi and Mr. Kitaoka exchanged ideas about Japan's ODA projects, which are based on the Japan-India Special Strategic and Global Partnership Framework.

On Dec. 21, following up on the Japan-India summit meeting in November, Mr. Jaitley, the Finance minister, and Mr. Kitaoka affirmed the importance of implementing JICA-assisted projects in a smooth and timely manner, including the High Speed Railway Construction Project, in which the Japanese and Indian governments agreed to aim for construction to start in 2018 and the operation in 2023. They also agreed to strengthen the partnership among their stakeholders promoting activities by related institutions in India.


After that, Mr. Kitaoka, together with Mr. Prabhu, the Railways minister, witnessed signing of a memorandum among India's Ministry of Railways, National High Speed Rail Corporation, JICA, and a joint venture consisting of Japanese consulting companies for the "Detailed Design Study on the High Speed Railway Construction Project in India."

At a seminar held in New Delhi on Dec. 21 for Japanese stakeholders, including members of the Japanese Chamber of Commerce and Industries, Mr. Kitaoka gave a keynote speech entitled "Retrospect and Prospect of Indo-Japan Relations." At this seminar with more than 100 participants, he pointed out the importance of the bilateral relationship between Japan and India, explaining the long historical relationship between India and Japan that has lasted since the Nara era (710 to 794). Mr. Kitaoka also emphasized his strong intention to promote a strategic partnership with India and expressed his expectations regarding the activities of Japanese private companies contributing to the development of India.

On Dec. 22, Mr. Kitaoka visited Delhi Metro and learned that measures such as safe and timely operation, waiting in line, and consideration to female passengers, including the introduction of female-only cars, were being practiced reliably.

On Dec. 23, he traveled to Tamil Nadu in southern India, and had a meeting with Mr. Panneerselvam, chief minister of Tamil Nadu, and key ministers of the state government. Both affirmed the importance of implementing various projects that lead to investment promotion, economic growth, and livelihood improvement in Tamil Nadu, where the number of Japanese companies is steadily increasing and where success stories including the Tamil Nadu Investment Promotion Program and Chennai Metro are already evident.


Mr. Kitaoka also visited in Chennai the Japanese grant aid-supported Institute of Child Health and Hospital for Children, which was recently completed. Mr. Kitaoka indicated that he expects children's health and medical care to improve through the hospital, which is a specialized tertiary level facility in southern India. In addition, while visiting Chennai Port, he learned that the transportation network has improved greatly with traffic jams for container tracks going into the port reduced by half. This development comes after a consultation and proposition by JICA experts to improve the traffic control and gate pass check-in system.

On Dec. 24, Mr. Kitaoka also visited a JICA-assisted forestry project in Tamil Nadu where he deepened his understanding of forestry and livelihood improvement activities by women's self-help groups.

JICA will continue contributing to the social and economic development of India and more close relationship between two countries, providing cooperation in such sectors as infrastructure, social, health and the environment through financial and technical cooperation, including the dispatch of volunteers.