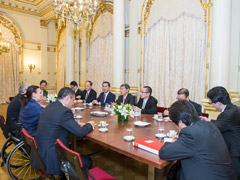 JICA President Shinichi Kitaoka holds talks with Argentine Vice President Gabriela Michetti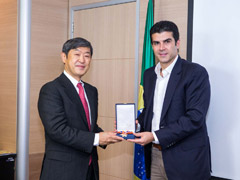 JICA President Shinichi Kitaoka received the Medal of merit of the Civil Defense from the Brazilian National Integration minister
JICA President Shinichi Kitaoka visited Argentina and Brazil from Feb. 5 to 13, discussed development strategy and cooperation policies with dignitaries from both countries and visited Nikkei[1] communities and JICA cooperation sites.

In Argentina, there are great expectations for foreign direct investment from companies from Japan and other countries because of the liberal economic policies of the current Macri administration, which began in December 2015. Mr. Kitaoka announced that through partnerships between Japanese companies and Argentinian economic organizations, JICA will support improving companies' productivity and industrial human resources using kaizen[2]. Vice President Gabriela Michetti and other government dignitaries said they have great hopes for these efforts.

In Brazil, President Michel Temer has set forth policies on foreign relations, politics and economic stability one after another since taking office in 2016. In meetings with dignitaries from the government including Minister of National Integration Helder Barbalho and Secretary General of Ministry of Foreign Affairs Marcos Bezerra Abbott Galvão, Mr. Kitaoka shared his recognition that Japanese-Brazilian cooperation are important in the international arena and the officials agreed that it is important to increase people to people exchange for further promotion of mutual understanding between the two countries.
National Integration Minister Helder Barbalho awarded the Medal of merit of the Civil Defense[3] to Mr. Kitaoka for JICA's cooperation, mainly in the area of disaster risk reduction.

One goal of this visit was to go to Nikkei communities, whose members are said to number 65,000 in Argentina and 1.9 million in Brazil. The Nikkei communities of the two countries have firmly taken root in their societies, and in addition to their playing an important role in economy, a large number of Nikkei are active in political and business circles. Emphasizing ties to Nikkei communities, JICA is working on enriching medical and welfare services that are part and parcel of population ageing, an issue facing those communities, and on developing Nikkei human resources[4].
In addition to visiting project site where JICA is supporting Nikkei communities and holding talks with Nikkei representatives in the two countries, Mr. Kitaoka visited the second settlement[5] in Tomé-Açu in northern Brazil. This will be a step toward building a new partnership with Nikkei communities and JICA.
[1] Focusing on Human Resources Development and Elderly Welfare and Strengthening Collaboration and Relationship with Nikkei Communities.

[2] Activities to review work taking place in production sites in the manufacturing industry. Regarding improving work efficiency and making the workplace safe, workers in the workplace play the central role in sharing knowledge and working to solve problems from the bottom up.

[3] The highest national decoration given to people, agencies or organizations within or outside Brazil who have carried out important activities or had important achievements in the areas of disaster risk reduction and protecting citizens. It was created by the president of Brazil.

[4] Continuing the work of the Japan Emigration Service, a predecessor of JICA, JICA is working to support migrants and Nikkei people in Latin America and elsewhere and to strengthen cooperation and ties with Nikkei communities.

[5] One of the settlements for Japanese migrants. Japanese migrant support agencies including JICA directly managed Tomé-Açu and improved and managed its land and local infrastructure.