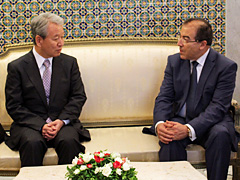 JICA President Akihiko Tanaka, left, holds talks with Tunisian Minister of Foreign Affairs Mongi Hamdi.
From July 16 to 18, JICA President Akihiko Tanaka made his first visit to Tunisia since assuming office and held talks with Minister of Foreign Affairs Mongi Hamdi and Secretary of State for Development and International Cooperation Noureddine Zekri.

Taking advantage of his visit, he signed Japanese ODA loan agreements on July 17 for the Mejerda River Flood Control Project (for up to 10.398 billion yen) and for the Rades Combined Cycle Power Plant Construction Project (for up to 38.075 billion yen). And at the signing ceremony, he disclosed that JICA would continue supporting the government in its work on social and economic development for the country, which has been considered comparatively stable politically since the onset of the Arab Spring.

On July 17, in his talks with Hamdi, which preceded the aforementioned signings, Tanaka praised the country for its steady progress in the democratization process, citing its preparedness for legislative and presidential elections scheduled for October and November, respectively. Moreover, he announced that JICA would bolster its response on such issues as job creation and industrial diversification and continue providing development assistance to the country toward inclusive development for reducing regional disparities in Tunisia. Next, with a view to preparing a more attractive investment environment for private businesses, he touched on the idea of introducing knowledge and technology accumulated and stored in Japan, such as the productivity improvement method called kaizen. In response, the foreign minister expressed his appreciation to JICA for its continued assistance, since before the revolution, which includes ODA loan projects and JICA volunteer programs. He also referred to the importance of future partnership-based cooperation, which covers private investment.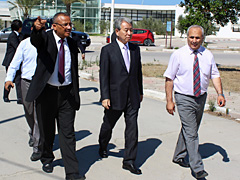 JICA President Akihiko Tanaka listens to an explanation at the Borj Cedria Science and Technology Park.
On July 18, in his talks with Zekri, the official on the Tunisian side responsible for coordinating the Japanese ODA loan projects, Tanaka expressed appreciation for the secretary's efforts in making those arrangements and said JICA would continue formulating ODA loan projects to Tunisia. In response, Zekri expressed gratitude for past projects and used the examples of the two loan projects signed on July 17 to talk about the significance of the synergy effect between large-scale infrastructure development and technical cooperation including the development of human resources.

In addition, Tanaka paid his first visit to the Textile Technical Center, which is a candidate site for a new cooperation project still under examination. The objective of the requested project is to improve quality and productivity in the fields of clothing and textiles, two in which Tunisia is considered relatively competitive. Then, Tanaka visited in the Borj Cedria Science and Technology Park, a base for higher education to develop industrial human resources as well as for research and development. The park was built and is maintained with JICA's assistance, and successive projects for human resource development have been carried out there. Tanaka said he expects that the park may serve as an effective development model based on his experiences from previous projects, adding that JICA looks forward to establishing an even closer relationship with the institution.

Tanaka's visit to Tunisia ended on July 18 and he departed for his next destination, Jordan.