In recent years, amidst the rapid progress in social and economic development, population concentration in urban areas, and the increase in extreme weather-related disasters due to climate change, developing countries have been especially vulnerable to natural disasters because of inadequate prior investment in disaster risk reduction (DRR) measures, including city planning and infrastructure development that incorporates DRR perspectives. For this reason, once a large-scale disaster strikes a developing country, the outcomes of development and opportunities for sustainable growth will be lost, making it difficult for the country to untangle itself from the downward spiral of disaster and poverty.
The Sendai Framework for Disaster Risk Reduction 2015-2030 (Sendai Framework) that was adopted at the Third UN World Conference on Disaster Risk Reduction in 2015 sets out understanding disaster risk, disaster risk governance, investment in DRR and "Build Back Better" as the priorities for action, which Japan considers as indispensable based on its experiences. Some of the seventeen (17) Goals of Sustainable Development (SDGs) embrace the perspective of DRR, such as "no poverty" and "infrastructure." This bears witness to the fact that international communities have recognized DRR as a condition for addressing development challenges.
It is important for the government of developing countries to understand the negative effects and impacts disasters have on development and economic growth and to promote prior investment in DRR as a risk reduction measure. Hence, JICA places importance on the prevention, mitigation, and preparedness phases in extending assistance on DRR. This is aligned with the Sendai Framework for Disaster Risk Reduction 2015-2030. For appropriate implementation of DRR policies and measures, JICA promotes the mainstreaming of DRR in every development project and supports the development of a framework for coordination with stakeholders. If a large-scale disaster occurs in a developing country, JICA is ready to assist that country in building a society that is more disaster-resilient than before.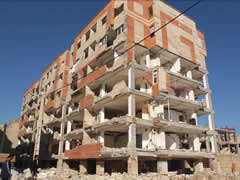 Disaster-stricken Area in Kermanshah Province, Iran
JICA cooperates in two (2) aspects, mainly, in DRR.
1. Cooperation in promoting the Sendai Framework for DRR 2015-2030
JICA supports four (4) priorities for action of the Sendai Framework for DRR, which was adopted as the outcome document in the Third UN World Conference on DRR.
The Four (4) Priorities for Action are:
1 . Understanding disaster risk;
2 . Strengthening disaster risk governance to manage disaster risk;
3 . Investing in disaster risk reduction for resilience; and
4 . Enhancing disaster preparedness for effective response, and to "Build Back Better" in recovery, rehabilitation and reconstruction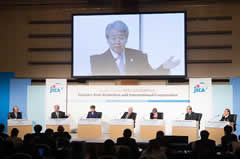 (On the screen) Dr. Akihiko Tanaka, former President of JICA, delivering a Speech at the Symposium on Disaster Risk Reduction and International Cooperation organized by JICA for the Third UN World Conference on Disaster Risk Reduction.
2. Cooperation based on the need of each country
JICA analysis issues in each country for which it has primary responsibility, and cooperates based on the "Sendai Framework for Disaster Risk Reduction" to reduce and alleviate disaster risks and the resulting damages most efficiently and effectively.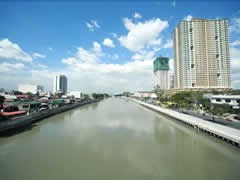 Completed River Dike in Metro Manila, Philippines (Pasig-Marikina River Channel Improvement Project)