Cambodia: South-South Cooperation with the Cambodian Mine Action Centre (CMAC)
Toward a World Free from Land Mine Victims
In Cambodia, more than 2,000 people were killed or injured annually by land mines during the 1990s. The number of casualties was reduced to less than 200 recently as the capacity of the Cambodian Mine Action Centre (CMAC) increased with support from the international community, including from the Japanese government and JICA. With CMAC's increased capacity in the removal of land mines and information management, it now enjoys extending capacity-building support to third countries in partnership with JICA.
Promoting Support for Land Mine Actions through South-South Cooperation
As a result of the civil war that lasted over 20 years from 1970, four to six million land mines are assumed to have been planted across Cambodia, and these mines still present a large threat to people's daily lives. CMAC is a governmental organization established for the purpose of demining, and it has strengthened its organizational capacity with support from international partners.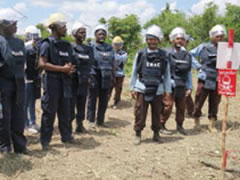 Members of the National Demining Institute of Angola receiving practical training at CMAC
CMAC significantly expanded its annual clearance area from 10.5 km2 in 2003 to 76.7 km2 in 2012 with the help of equipment obtained through support from the Japanese government and JICA since 1999, such as brush cutters, demining machines, and mine detectors. Also, the center has received technical assistance from JICA to enhance its demining capability. CMAC is currently continuing its efforts toward the goal of completing demining in the country by 2019.
Based on this accumulated capacity and experience, CMAC now conducts a series of seminars for other demining organizations in different countries, such as Colombia, Laos, and Angola, in partnership with JICA, to share its knowledge and experience. At the seminar, participating organizations are exposed to CMAC's experiences on information management and planning and monitoring of operations, all of which are necessary for efficient demining. Such seminars also promote mutual learning among participating organizations by sharing experience with each other, which is another advantage of South-South cooperation.
In March 2015, JICA invited H. E. Heng Ratana, Director General of CMAC, and key members of the National Demining Institute of Angola (INAD) to Japan to hold a seminar with a view to advocating land mine problems to the Japanese public and the usefulness of South-South cooperation. Japan does not have demining experience domestically, but it is worth recognizing that there are many countries in the world, including Cambodia, that still suffer from the negative impact of land mines long after the conflict. Hence South-South cooperation will become increasingly important as we continue to support demining efforts in those countries.
Case Study
Support for Sudan
Reconstruction Aid in Post-Conflict Sudan
Sudan has faced several domestic conflicts in its west, south, and east, which have been having a severe impact on the lives of residents. In order for the country to recover from conflicts, JICA has been providing comprehensive support, including capacity building of government officials for the proper delivery of public services.
The Darfur region has faced fierce conflicts between the government and anti-government groups since 2003. A number of causes, such as scarce rainfall, desertification, conflicts over natural resources, population pressure, and ethnic conflicts, are intertwined. In this region, a comprehensive peace agreement has not been signed, though some of the anti-government forces signed a peace agreement.
The three protocol areas, the states of Blue Nile and South Kordofan and the Abyei district—along the border between Sudan and South Sudan are home to many internally displaced persons (IDPs) from southern Sudan, and the conflicts continue to produce large numbers of IDPs. The conflicts also have caused growing concerns about starvation. To end the conflict, and reconstruction of the region is a major issue in the country.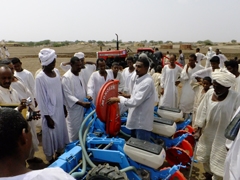 Farmers in the village of Abuda in Kassala learn how to operate agricultural machinery.
Given the impact of the prolonged conflict, the Three Protocol Areas and Darfur are suffering underdevelopment in basic public services and human resources.
In this regard, JICA has been extending a variety of Technical Cooperation since 2009 in these areas (except in Abyeil due to security reasons) to improve the capacity for better services including water supply, healthcare, and vocational training. JICA also supports provincial governments in formulating development plans and in other areas including public financial management, staff training for water supply, health, and vocational training.
In eastern Sudan (states of Red Sea, Kassala and Al Qadarif), there was an armed uprising by anti-government group against the government in 1994 that was sparked by dissatisfaction over underdevelopment. In 2005, a battle with the Sudanese military took place in this region. After the battle, the two sides reached a peace agreement in 2006. Although the security situation of this region has been improving since then, assistance to the region is still limited. As a result, development of the region has fallen far behind.
Furthermore, Kassala has been absorbing refugees who escaped from conflicts and political instability in neighboring Eritrea and Ethiopia, and IDPs who escaped from starvation and droughts.
Since May 2011, JICA has been extending comprehensive support to the state government of Kassala to strengthen the capacity of service delivery in the fields of water supply, health, vocational training agricultural/livelihoods, and project formulation.