Emergency Support for COVID-19 Infection Control Measure in Sudan
July 27, 2020
Provision of Chlorine for Water Sterilization to Water Facilities for Continuous Safe Water Supply
---
As a countermeasure against the spread of the coronavirus infectious disease (COVID 19) in Sudan, JICA procured chlorine gas cylinders locally under the technical cooperation project, "The Project for Strengthening Capacity of Institutional Management, Operation and Maintenance in State Water Corporations" and had them delivered to the Bahari Water Treatment Plant in the City of Khartoum on July 27, 2020.
The Bahari Water Treatment Plant, which has the capacity to supply water to approximately 1.15 million people, is one of the largest water treatment plants in Khartoum, but due to the spread of the COVID-19 infectious disease, the collection and management of water charges became difficult. It also became hard for the water facilities to obtain the chlorine gas cylinders that are necessary for water sterilization in order to provide safe water to customers. This support by JICA had enabled the provision of 36 cylinders of chlorine reagents and, as a result, it became possible to provide safe water to customers continuously for six months, including the rainy season when turbidity increases.
At the handover ceremony, Mr. Hassabelrasoul, Director General of Drinking Water and Sanitation Unit, Ministry of Irrigation and Water Resources, and Ms. Mariam, Deputy Director of Bilateral Cooperation under the Foreign Finance Department at Ministry of Finance and Economic Planning, said: "We are grateful to JICA and the Japanese people for their support during the crisis. The Sudanese Government will make the best efforts to maximize the support from Japan to the Sudanese people".
Safe water supply is not only necessary for people to live healthy lives, but also very important for hand washing, together with soap, to prevent the spread of COVID 19. It also serves as the basis for the goals of the new Sudanese administration, which started in August 2019; "establishment of peace and stability" as well as the "economic recovery and revitalization". The project will certainly contribute to the improvement of access to safe water by building management, operation and maintenance capacity of the state water corporations as well as the operators of water supply services in Sudan. JICA will continue to support COVID 19 countermeasures and the sustainable supply of safe water in the country.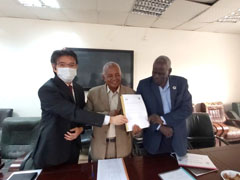 Taking a commemorative photo after signing the equipment delivery certificate. From left: Mr.Takahashi, Chief Representative of JICA Sudan Office, Mr.Ibrahim, the Director of Investment Department, Khartoum State Water Corporation, Mr. Hassabelrasoul, the Director General of Drinking Water and Sanitation Unit, Ministry of Irrigation and Water Resources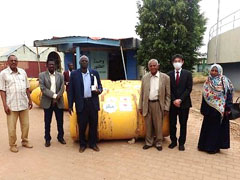 Procured chlorine gas cylinders