Chlorine Procurement for Water Supply in Palestine by JICA Urgent Support
July 31, 2020
"Safe water supply for citizens under the COVID-19 emergency"
---
Jenin city in Palestine has a population of about 60,000 and is the most northern city in the West Bank area. Since 2017, JICA has dispatched an expert team under 'The Project for Strengthening the Capacity of Water Service Management in Jenin Municipality' aiming at strengthening the capacity of Jenin city waterworks operation, such as management, non-revenue water reduction, improvement of water supply conditions, revenue collection, customer service, which is supported by provision of materials and equipment such as backhoe, flow meters, and prepaid meters.
In March 2020, the first coronavirus infection was confirmed in Palestine and a state of emergency was issued. Under the emergency conditions, there was a reduction in water revenue although water demand increased due to rising temperature in summer. Government employees, except those directly involved in essential services, have to stay home. Now Jenin city has prioritized continuity of safe water supply even in corona emergency and the waterworks staff have to work under the operational issues such as decrease in revenue, shortage of operation manpower and fears of virus infection.
As water revenue decreased, it became difficult for the City to purchase additional chlorine required for disinfection of water. At the end of April, only 2-week worth of chlorine was left. Continuous safe water supply for the citizens faced a crisis. Since hand washing with safe water is an important countermeasure against coronavirus, JICA decided to urgently procure 10 tons of chlorine agent (approximately 4 months' worth) through the project upon the request of SOS of the Jenin city. The procurement was successfully completed before the chlorine stock ran out, and safe water supply could be continued. Additionally, JICA shall provide chlorine injection pumps. JICA is also considering the provision of fittings necessary for the installation of prepaid meters purchased by Jenin city, maintenance materials for leak repairs, and a vehicle to improve customer service.
The prepaid meter introduced in the project proved to be advantageous to tackle the operational hurdles due to coronavirus emergency. Unlike conventional postpaid meters, revenue collection using prepaid meters does not require staff mobility for billing and collection. Thus, revenue collection could be continued even during the emergency. The revenue collected could be apportioned for urgent repair of the water distribution system and maintenance of water supply for poor families.
On Jenin's official SNS page, there are many voices of citizen's gratitude and support for the staff of Jenin city waterworks who have dedicated to providing safe water services even under the coronavirus emergency. "Under the coronavirus emergency, staff of Jenin city waterworks staff have performed their job very well. I can now visualize the output of JICA's capacity development," said the mayor of Jenin City. In addition, the mayor reconfirmed the advantage of prepaid meters over conventional postpaid meters in revenue collection during coronavirus emergency. Jenin city now has plans to purchase 6,500 prepaid meters to replace conventional meters with their internal funds. The City has already begun sourcing 1,000 prepaid meters.
The project will continue to support Jenin city for provision of safe water supply which is essential to protect from coronavirus infection, and improved water services and a robust water utility even in the coronavirus emergency.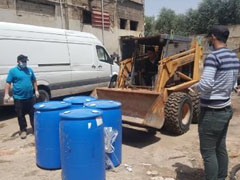 Procurement of chlorine agent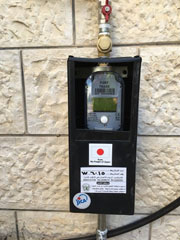 Prepaid meter