Official Development Assistance(ODA)and ODA Loans
Overseas Economic Cooperation Operations
Official Development Assistance (ODA) and ODA Loans
ODA is broadly divided into bilateral aid, in which assistance is given directly to developing countries, and multilateral aid, which is provided through international organizations. Bilateral aid consists of Finance and Investment Cooperation (ODA loans and Private Sector Investment Finance) and grants (grant aid and technical cooperation). Of these, JICA provides concessional loans as ODA loans.
Types of ODA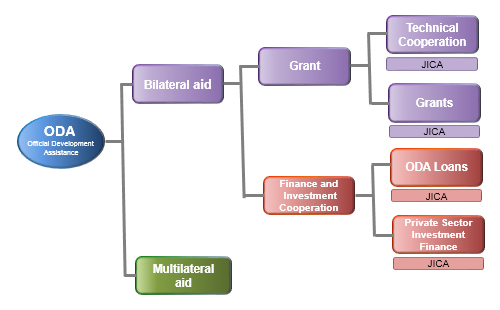 JICA follows the ODA Charter and Medium-Term Policy on ODA established by the Japanese government.
What are ODA Loans?
In many developing countries, economic and social infrastructure is underdeveloped. In recent years, in addition to an increasing population living in poverty, global problems have emerged, including climate change, communicable diseases, conflicts and terrorism. To address these issues, the United Nations set out the "Sustainable Development Goals (SDGs)*" as common goals, and individual countries have launched a range of measures.
ODA loans support developing countries by providing low-interest, long-term and concessional funds to finance their development efforts.
*The United Nations Sustainable Development Summit in September 2015 set the Sustainable Development Goals (SDGs).
Characteristics of ODA loans - Supporting the ownership of developing countries
Ownership is crucial for economic growth and poverty reduction in developing countries. ODA loans, which require repayment, promote efficient use of the borrowed funds and appropriate supervision of the project they finance, thereby underpinning developing countries' ownership in the development process. In addition, as ODA loans are financial assistance with repayment obligation, they place a relatively small fiscal burden on the Japanese government and represent a sustainable instrument for official development assistance.
Target areas
International organizations and developed nations are making a variety of efforts to achieve the SDGs. The Development Cooperation Charter adopted by the Cabinet in February 2015, moreover, assigned priority on quality growth and realizing a peaceful and secure society, in line with the SDGs. Following the Development Cooperation Charter, ODA loans are being actively used to provide support in the areas contributing to quality growth, realizing a peaceful and secure society, and addressing global issues.
Target regions
Although ODA loans are primarily offered to countries in the Asian region given their strong geographical, historical, and economic links to Japan, there are also strong needs in countries other than those in the Asian region. JICA has supported a wide range of countries and regions with ODA loans.
Project Cycle of ODA Loans
ODA loans follow six steps. As lessons learned from the ex-post evaluation at the final stage will be fed back to preparations of new projects, this flow of steps is called the project cycle.