JICA-Net is a distance technical cooperation program promoted by JICA. JICA-Net aims to complement JICA's programs using a wide range of information and communication technologies such as multimedia-based learning materials, videoconferencing system, and internet.
Case Study
Fiji: JCT for Human Development and Human Security Project
Expanding Distance Learning by Using a Satellite Communication Network
The University of the South Pacific, which was established by 12 South Pacific nations, receives support from JICA. About 48% of students already use distance learning. By upgrading the satellite communication network, even individuals living in remote islands will have the opportunity to receive an advanced education.
The University of the South Pacific was established in 1969 by 12 island nations: Fiji, Vanuatu, Tuvalu, Tonga, Tokelau, Solomon Islands, Samoa, Niue, Nauru, Marshall Islands, Kiribati and Cook Islands. Created by financial contributions from all these nations, the university is the highest-ranking international institution of higher learning in this region. Exchange students from other countries attend classes at the university's main campus in Suva, the capital of Fiji. In addition, due to the geographic characteristics of the South Pacific, classes are also provided via a satellite network to students in other countries in this region. In fiscal 2011, 48% of the university's approximately 22,000 students used the satellite network.
Grant Aid from Japan has been provided to upgrade educational programs using ICT in order to handle the increasing number of students. Aid was used for the construction of the Japan-Pacific ICT Centre, which is the nucleus of ICT in Oceania, and a multi-purpose lecture hall in Suva. The official opening for both buildings was in February 2012.
There are few institutions of higher learning in Oceania and the remote campuses of the University of the South Pacific are the only form of advanced education in many countries. As a result, JICA is implementing the ICT for Human Development and Human Security Project, a Technical Cooperation project that goes from February 2010 to January 2013. The aim is to provide opportunities for higher education to residents of Oceania and improve the quality of this education. The project includes support for bachelor's degree programs, strengthening the satellite communication network, improving distance learning systems, effectively using the Japan-Pacific ICT Centre, and other activities. Satellite antennas have been placed even in remote islands that previously did not have access to distance learning. By giving residents access to the same remote classes as in their respective nation's main islands, this program has eliminated the digital divide for learning.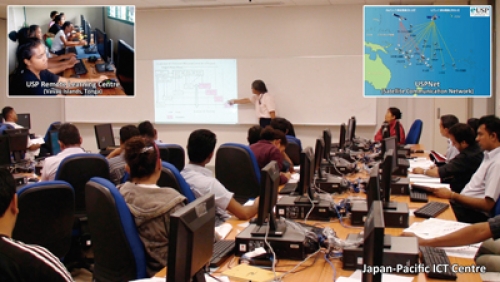 Upper left: Students attend a satellite communication network class at the Vava'u campus in Tonga.
Center: A class at the main campus of the University of the South Pacific in Suva, Fiji
Upper right: The satellite communication network of the University of the South Pacific
Case Study
Indonesia: The Project on Capacity Building for Information Security
To Protect Societies against Cyber Attacks
Developing countries are facing the global challenge of how to cope with cyber-attacks. JICA supports the development of the cyber security capacity of the Indonesian government.
Working with Other ASEAN Countries to Build Safe Cyberspace
The rapid spread of the Internet and the expanding scope to be covered by ICT in the workplace mean that the need to address cyber security is growing day by day. In fact, cyberattacks, which are most notably designed to deface the websites of government offices and businesses and leak their confidential information, are taking an increasing toll on a global scale. Countries with inadequate cyber security measures are not only vulnerable to cyber-attacks, they may also be used as originating or transiting sites for cyber-attacks, like springboards. These circumstances prompted the Indonesian government to launch an initiative designed to strengthen cyber security in 2007. In this regard, JICA has been providing assistance since July 2014. This assistance involves strengthening the information security management and technical capacity of government offices in Indonesia, enhancing cooperation with other ASEAN member states, and raising public awareness. Since cyber-attacks are carried out mainly via the Internet, what a single country can do about them is limited. This JICA project attaches importance to cooperation with other ASEAN member states. It organizes training and sessions to exchange views for government officials from Cambodia, Myanmar, and Laos, which lag behind other ASEAN countries in terms of cyber security. In this way, the project is also helping to improve the level of cyber security of the ASEAN region as a whole.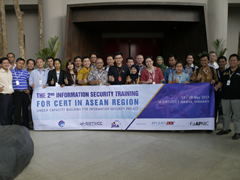 The project organized a training session for government officials from Cambodia, Laos, and Myanmar who are responsible for cyber security.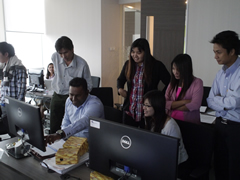 Training participants analyze a recent cyber-attack.