JICA-Net is a programme of distance technical cooperation which has been promoted by JICA.
JICA formulated "Basic Plan on Distance Technical Cooperation" in 2002 and started the cooperation which adopts information and communication technologies such as video conference system and distance learning method, for realizing "Comprehensive Cooperation Package to Address the International Digital Divide" which was announced by Japanese government at G8 Kyushu-Okinawa Summit in 2000.
Specifically, JICA-Net has the following three functions; [1] Holding a remote lecture or seminar for developing countries by using the internet or video conferencing system, [2] Producing JICA-Net multimedia-based learning materials which gather the movies for JICA project sites and data, [3] Informing on the JICA-Net Library (using web platform services).
TOPICS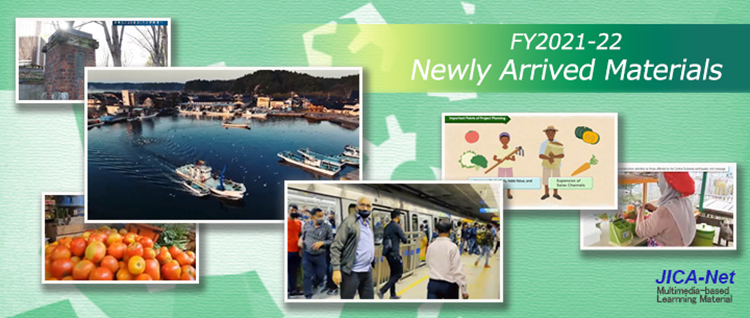 [What's New!]
How to Use
JICA-Net Multimedia-based Learning Materials are mainly utilized in JICA's training programme with participation of approximately 10,000 people per a year from various organization of public sectors, private sectors, NGOs, universities in developing countries. These materials support their training in various scenes.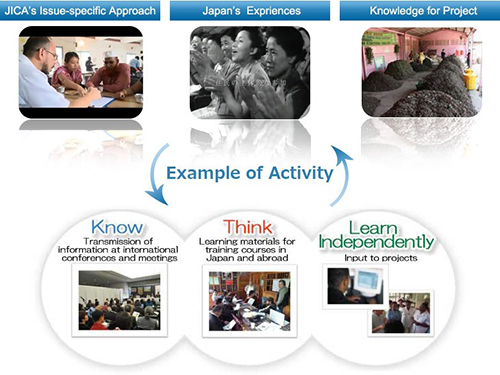 JICA-Net multimedia-based learning materials are divided into 3 types:
"JICA's Issue-specific Approach", "Japan's Experiences", "Knowledge for Project".
The materials are utilized for various purposes and cases.
For example, "Know": Transmission of information at international conferences and meetings, "Think": Learning materials for training courses in Japan and abroad, "Learn Independently": Input to projects.
JICA-Net Multimedia-based Learning Materials
JICA-Net Library archives various kind of learning materials. We call them "Contents" and categorize into two groups.
- Open Access Content: for general use
- Internal Access Content: for JICA's projects use only
1. Open Access Content
Open Access movie content will be able to watch in YouTube "JICA-Net Library" channel.
2. Internal Access Content
Internal JICA-Net multimedia materials are stored in the JICA-Net Library, which is part of the LMS called Cornerstone used by JICA under the JICA-VAN* initiative.
Access here: https://jica.csod.com/ (external link)
Persons who are engaged in JICA's projects may use Internal Access Content reference service and duplication service. Please contact the JICA-Net Library Desk if you wish to view the JICA-Net Library.
*JICA-VAN (JICA Virtual Academy & Network) refers to "a large-scale network for continuous mutual learning and knowledge sharing among all JICA project stakeholders and beneficiaries (developing country human resources, etc.).
[DVD/CD duplication service]
Persons who are engaged in JICA's projects may use DVD/CD duplication service of JICA-Net contents (Open and Internal Access).
Please contact JICA-Net Library Desk with your name, affiliation and e-mail address via e-mail.
Contact
JICA-Net Library Desk
Reception hours 9:30-17:30 (JST)
E-mail eitpl-jicanet@jica.go.jp
JICA-NetLibrary
JICA-Net Library stores multimedia-based learning materials produced by JICA as well as syllabus and teaching materials for remote lectures and seminars to be used for JICA's technical cooperation.
[Reference]