1. Multi-sectoral approach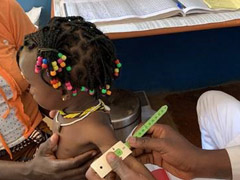 JICA takes a multi-sectoral approach involving various stakeholders to improve nutrition, and has been implementing financial and technical cooperation in the agriculture, health, water sanitation, and education sectors. In addition, other forms of collaboration are happening by involving the private sector, academic institutions, civil society such as NGOs, and Japan Overseas Cooperation Volunteers (JOCV). We will make the most of these strengths to reinforce multi-layered efforts to improve nutrition.
At its headquarters, JICA established a Nutrition Improvement Sub-network, with members from various departments within the organization, in order to strengthen capacity to respond to nutrition issues as well as to promote cross-sectoral actions. Furthermore, topics related to nutrition improvement are posted regularly on the "Minna no Eiyo (Nutrition for Everyone)" Facebook page[1].
Moreover, JICA conducts an annual training course titled "Training Human Resources to Improve Nutrition" to nurture professionals who will promote international cooperation in the field of nutrition improvement. Also, JICA operates the Nutrition Improvement Partner Program as a way for JOCV, JICA experts, and Japanese consultants working in various fields who are interested in nutrition improvement activities to network.
2. Nutrition in health
JICA recognizes that ongoing nutritional services for pregnant women and children are particularly important for the first 1,000 days of a child's life. As such, we promote nutritional guidance during prenatal checkups, breastfeeding, and guidance on appropriate complementary food focusing, on the first 1,000 days. JICA also conducts training programs for health administrators and healthcare workers on preventing child malnutrition through maternal, newborn and child health (MNCH) projects.
Regarding overnutrition, it is noted that excessive or unbalanced dietary intake is one of the risk factors for developing noncommunicable diseases (NCDs), especially diabetes, hypertension and cardiovascular diseases. JICA has been supporting efforts of developing countries to combat overnutrition as part of NCD prevention and control projects.
3. Nutrition in agriculture
In collaboration with the African Union Development Agency - New Partnership for Africa's Development (AUDA-NEPAD)[2], JICA launched the Initiative for Food and Nutrition in Africa (IFNA)[3] was launched at the Sixth Tokyo International Conference on African Development (TICAD VI) in 2016[4]. IFNA aims to improve nutrition in Africa by 2025 through facilitating close collaboration between African countries and development partners. At TICAD VII in 2019, the Yokohama Declaration mentioned expanding IFNA from the initial 10 target countries to contribute to nutrition improvement of 200 million children in the African Region. JICA will continue to work with these African countries to develop strategies for improved nutrition, as well as promote and disseminate practical activities to enhance nutrition across existing disciplines.
4. Nutrition in WASH
Safe drinking water protects people from diarrhea and water-borne diseases, and helps to maintain good health by enabling people to absorb nutrients more efficiently. To improve access to safe water, JICA supports the development of water-supply facilities in urban and rural areas, enhancement of maintenance capacity, as well as dissemination to residents of information on ways to use water safely and hygienically.
Handwashing can prevent infections and food poisoning, enabling people to build a strong body that can absorb nutrients efficiently. JICA is proactively incorporating activities that change hygiene behavior into its cooperative projects to spread the healthy practice of handwashing[5].
5. Nutrition in education
JICA supports school meal programs run through the School for All Project[6] in Niger, Senegal, Mali, Burkina Faso, Madagascar, and Ghana to improve education through community participation. In these countries, school management systems have been established to involve not only teachers and parents, but also local community members. They work together to improve the educational environment for children according to the conditions and needs of each country and community.
6. Partnership with the private sector and civil society for nutrition improvement
The private sector in the food, healthcare and WASH fields could play a significant role in improving nutrition. JICA supports overseas expansion by Japanese companies with technologies that can contribute to better nutrition.
JICA co-chairs the Nutrition Japan Public Private Platform (NJPPP)[7] established in 2016. The NJPPP aims to promote nutrition improvement initiatives by sharing Japan's accumulated knowledge in business, industry, the public sector, and academia, while supporting the overseas expansion of Japanese companies engaged in improving nutrition.