Project Case Studies
Aid to reduce poverty
- Indonesia: Small-Scale Irrigation Management Project -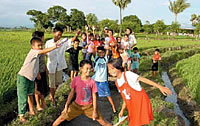 The three provinces in eastern Indonesia have a long dry season and low annual rainfall. As a result, agricultural productivity is low and the region was the poorest in Indonesia. JICA provided an ODA loan to support the irrigation facility construction project serving this region. In addition to stable water supply, JICA supported the extension of farming technology and local inhabitants in setting up organizations for agricultural water management, thereby increasing agricultural productivity. This project helped to increase land under cultivation in the target region and increase harvest yield and increase farmers' incomes, contributing to reducing poverty through provincial development.
Improving infrastructure for economic growth
- India: Delhi Mass Rapid Transport System Project -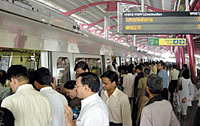 In the Indian capital of Delhi, where the concentration of population continues, a growing number of automobiles have caused serious traffic congestion and air pollution. JICA provided an ODA loan to support the construction of the subway line, elevated and surface railroads in an effort to build the mass transit system relieving traffic congestion and decreasing the burden on the environment.
Once all the lines are in operation, the system is expected to carry 2.26 million passengers a day, enhancing Delhi's ability to function as a city by easing its chronic traffic congestion and reducing exhaust emissions.
Addressing global issues
- Tunisia: Integrated Reforestation Project -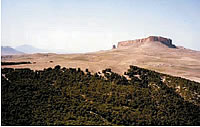 The majority of Tunisia is in semi-arid climate. The limited forests of this nation have dramatically shrunk as a result of natural disasters and over-logging, making reforesting an important priority to prevent topsoil erosion and preserve the natural environment. JICA has provided an ODA loan to support forest maintenance, replanting, constructing water and soil conservation facilities including reservoirs, as well as human resources development for forest management. In addition, local community participation was incorporated in the project to ensure that the forest conservation program takes root among the inhabitants in the region.
Supporting human resources development
- China: Sichuan Higher Education Project -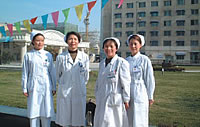 China has launched a policy aimed at strengthening human resources development in the inland region in an effort to reduce regional disparities. In Sichuan Province, the authorities are working to increase the number of students enrolled in higher education institutions. JICA has provided an ODA loan for both "hard support" including the construction of school buildings and educational facilities at eight universities in Sichuan, and "soft support" by offering training for educations in Japan.
Improving higher education in Sichuan Province is expected to help reduce the gap between the inland region and coastal region. In addition, this training program also works to strengthen mutual understanding between Japan and China by providing opportunities for Chinese educators to come and study in Japan.