Country: Brazil
Course Title: Urban Development, 2005 International Training and Dialogue
Organizer: Tokyo International Center (JICA TOKYO)
Overview
Under a JICA follow-up cooperation project, Daniel Todtmann Montandon and Felipe Francisco de Souza, both members of the Municipal Planning Secretariat for the city of Sao Paulo, Brazil wrote and published a book called "Land Readjustment and Joint Urban Operations." It is anticipated that the strategy outlined in their book will be used to formulate an effective plan for Sao Paulo - a large city with a population of 11 million.
How the initiative began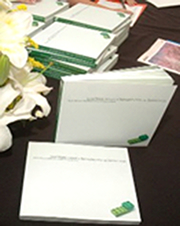 The story leading up to the publication began in 2005. Both writers participated in JICA's International Training and Dialogue course "Urban Development" held in Japan that year. Through the course, they learned about the success of the land readjustment projects in Medellin, Colombia and Katmandu, Nepal. They were also told about the achievements of the Japan's Urban Development Method that was being implemented in five major cities within Japan. With this practical knowledge, these former course participants collaborated on an analysis, determining how to implement these successful methods and systems in Sao Paulo.
As the course neared its end, Montandon and de Souza considered publishing their findings to propose the application of Land Readjustment in Sao Paulo. Their concept was realized with the full support of the Municipal Planning Secretariat of Sao Paulo, JICA's Alumni Association and Tokyo International Center.
The mayor of Sao Paulo, Gilberto Kassab, congratulated Montandon and de Souza for their excellent work at the book release ceremony. It is expected that the plans outlined in their seminal publication will be adopted for use in Sao Paulo.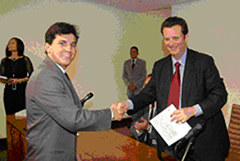 Felipe Francisco de Souza (left) with Gilberto Kassab, the mayor of São Paulo (right)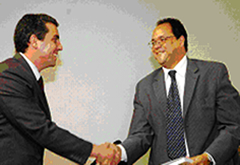 Daniel Todtmann Montandon (left)
The worldwide application of a product born of JICA's training in Japan
Notably the book was adopted as the text-book for JICA's third-country training[1] program on urban development in Curitiba, Brazil. The book is considered one of the best examples of urban planning worldwide to date. Course participants from Central and South America greatly appreciate the regional content of the book.
Note
[1] third-country training: Training implemented by JICA aimed at enabling a developing country to transfer the knowledge acquired from Japan to its neighboring countries. Conceptually, Japan is the "first country," the recipient of Japanese technology is the "second country" and the neighboring country is the "third country."