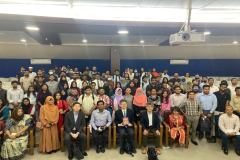 On Aug 25, 2022, JICA held the third JICA Chair at Dhaka University in Bangladesh. The JICA Chair is a program consisting of short intensive lectures conducted by Japanese lecturers on the political, economic, public administration, and legal aspects of Japan's development efforts. On this occasion, Takahara Akio, executive director of the JICA Ogata Sadako Research Institute for Peace and Development, provided an in-person lecture on "Japan After World War II and Japan–China Relations in the Modern Era." Approximately 150 students and lecturers from the Department of Japanese Studies and the Department of International Relations attended the lecture.

First, Abdullah-Al-Mamun, chairman of the Department of Japanese Studies at Dhaka University, introduced and commended the JICA Chair, and Takahara was warmly welcomed as the guest speaker. Yuho Hayakawa, chief representative of JICA's Bangladesh Office, delivered opening remarks presenting the solid experiences and results of the long-standing development partnership between Bangladesh and JICA.

Takahara identified "competition and cooperation" as the two aspects of neighborhood diplomacy between Japan and China, referring to the compatibility of the Free and Open Indo-Pacific (FOIP) and the Belt and Road Initiative (BRI). In addition, Takahara's thorough presentation of the analytical framework of Japan–China Relations, identifying four major areas (1. domestic politics, 2. economic interests, 3. international environment and security/sovereignty, and 4. people's perception/identity), was well received by the participants.

After the lecture by Takahara, Lailufar Yasmin of the Department of International Relations at Dhaka University made valuable comments on the importance of studying the bilateral relations of other countries to learn experiences and lessons, and to directly learn from the scholars of those countries. Participants actively shared their thoughts, observations, and questions with Takahara.