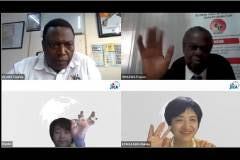 JICA Ogata Sadako Research Institute for Peace and Development (JICA Ogata Research Institute) held a satellite session under the theme of "COVID-19 Response and Experiences for Resilient Society from Uganda" on Oct. 27, 2022, at the Seventh Global Symposium on Health Systems Research (HSR2022). The session was chaired by Saito Kiyoko, senior research fellow at the JICA Ogata Research Institute. The session consisted of a total of four presentations by Saito, Research Fellow Komasawa Makiko, and two leaders invited from Uganda, Dr. Charles Olaro from the Ministry of Health and Professor Francis Omaswa from the African Center for Global Health and Social Transformation (ACHEST). The four presentations based on their study results were followed by the general discussion with various stakeholders from around the world.
Ugandan government's response to COVID-19 and its lessons learned
First, Dr. Charles Olaro, director of Curative Services at the Ministry of Health, gave a presentation on the lessons the Ugandan government has learned from its response to the COVID-19 pandemic. Uganda has experienced various outbreaks in the past which posed serious difficulties in treating patients with other illnesses due to the suspension of health services. Based on these experiences, he emphasized that the Ministry of Health could maintain the provision of high-quality health services even while responding to COVID-19.

Olaro reported how Uganda implemented the Continuity of Essential Health Services (CEHS) program to establish a cross-sectoral linking mechanism from the central government to local governments. The lesson learned was the need for periodic performance monitoring and evaluation, in addition to continuous advocacy and budget allocation for further strengthening the mechanisms. Furthermore, it is necessary to "learn while doing"—in other words, to adapt flexibly based on new evidence. He suggested that integrated coordination from the central government to local governments is essential for these mechanisms to function effectively.


COVID-19 response in referral hospitals and impact on access to basic health services
Komasawa presented her research results using qualitative and quantitative methods on the impact of COVID-19 response on hospitals and people's accessibility to essential health services.

Qualitative research at four regional referral hospitals highlighted five important categories: infection prevention and control, service provision and utilization, healthcare workers, hospital management, and community. From the items summarized in each category, it was clarified that the targeted regional referral hospitals succeeded to prevent the spread of COVID-19 and maintained the normal services provision despite limited medical and human resources. Fundamental factors for this achievement might be cooperating with local governments and communities, and technical, personnel, and material support by the central government, under a clear policy. Contrarily, quantitative research showed that the number of patients decreased sharply during the two severe lockdown period. These results indicated that people's accessibility to healthcare was more affected by the prohibited movement than COVID-19 itself.

Based on these findings, Komasawa concluded that, in order to prepare for unknown infectious diseases in the future, further research is needed on how to balance strict prevention and control measures with ensuring access to essential health services.


Community engagement for universal health coverage
Next, Professor Francis Omaswa, executive director of the ACHEST and chairperson of the National Sub-committee for Community Engagement Strategy for COVID-19 Response, discussed the outcome of community engagement with a focus on village health teams during the COVID-19 pandemic in Uganda, as well as the lessons learned from those outcomes for achieving universal health coverage.

As a community engagement initiative, Omaswa discussed periodic community dialogue sessions that were held even during the COVID-19 pandemic. These sessions organized communities that encourage the residents to take ownership of their own health, which also resulted in the achievement of social cohesion within the communities. He also showed that the fostering of autonomous communities resulted in effective collaboration with medical institutions and improved the performance of the regional medical system and primary health care. Furthermore, Omaswa pointed out how the role of village health teams of Community Health Workers, which link the government health facilities and residents, is important for the formation of autonomous communities. He also emphasized how training, transportation, and remuneration for team members are necessary for teams to function well, which means that financial support from the government is important.

Finally, Saito presented the results of a comparative analysis of the state of community engagement in Uganda during the COVID-19 pandemic between rural areas, where trust in communities is high, and urban areas, where trust is low. She found that even if urban residents received more material and emotional support than rural residents, there was no difference in satisfaction with support. Furthermore, she showed that rural areas receiving little support had a stronger sense of overcoming the COVID-19 pandemic through mutual assistance among community members, and that the psychological damage was less than in urban areas. Based on these results, she suggested that the trust between community members during normal times is the key to effective community engagement, and that the construction of a close social network is important.


Toward a resilient society capable of response to pandemics
Based on the four presentations, discussions were held on how we can build resilient societies capable of responding to pandemics. Participants shared an understanding that systematic efforts not only in the health sector but also in a multitude of other sectors functioned well in Uganda. They also pointed to the importance of monitoring as well as participation from both the public sector and the community. Furthermore, they pointed out that providing integrated support from the central government to local governments is essential in order to promote the autonomy of communities and elicit independent activities from residents.

In conclusion, Omaswa emphasized the importance of political leadership for ensuring the functioning of these comprehensive mechanisms. Saito ended the session by promising that the JICA Ogata Research Institute will continue researching and communicating ideal ways to resilient societies in times of crisis.