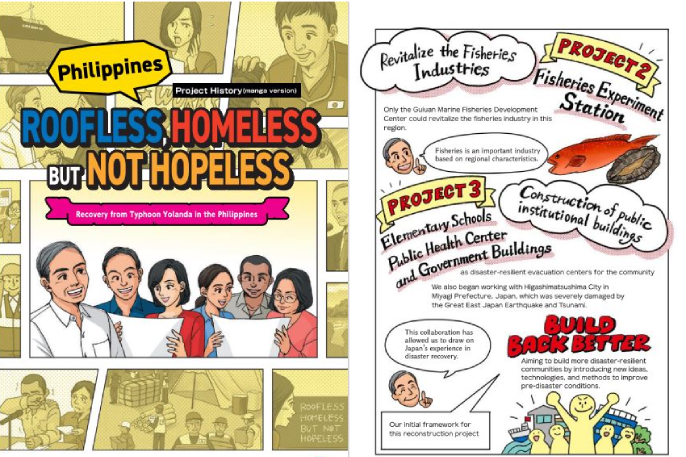 Project History is a publication series by the JICA Ogata Sadako Research Institute (JICA Ogata Research Institute for Peace and Development) that reviews the trajectories and achievements of technical cooperation, financial cooperation, and volunteer programs conducted by JICA in developing countries. One of the books in this series, "Roofless, Homeless but not Hopeless: Recovery from Typhoon Yolanda in the Philippines" is now available as a manga.

A super typhoon "Yolanda", described as being a 100-year storm, struck Eastern Visayas in the central Philippines in November 2013. Record-breaking storm surges and strong winds caused devastating damage; the number of deaths and missing people amounted to about 8,000, and more than 16 million people were directly affected. This manga provides an easy-to-follow explanation on Japan's efforts, with a focus on emergency relief in affected areas and subsequent technical cooperation projects to facilitate restoration and recovery.

Based on the Build Back Better (BBB) concept, which aims to achieve stronger recovery with better disaster resilience rather than to simply bring things back to their original state, Japanese experts and aid workers strived every day while prioritizing the relationship with the people of the Philippines. From emergency relief to seamless assistance for restoration and recovery, numerous people were involved, believing that disasters can provide the opportunity to build a better society. Through this manga, we hope you can look back at their strenuous efforts.

Related Links