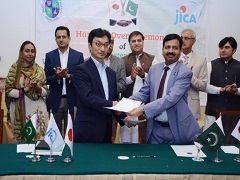 Mr. Shigeki Furuta, handing over the master plan to Mr. Faqir Muhammad Chaudhary
Faisalabad, July 10, 2019: A handing over ceremony for Faisalabad Master Plan was held in a local hotel. The ceremony was attended by Ms. Firdous Rai , Member of Provincial Assembly and Member of Faisalabad Development Authority (FDA) Governing Body along with Mr. Shigeki Furuta, Chief Representative of JICA; Mr. Mahmood Javed Bhatti, Commissioner Faisalabad; Mr. Saif Ullah Dogar, Deputy Commissioner Faisalabad; Mr. Amir Aziz, Director General Faisalabad Development Authority (FDA); Mr. Faqir Muhammad Chaudhary, Managing Director of Water and Sanitation Authority (WASA) Faisalabad and other officers of the relevant departments.
Mr. Shigeki Furuta, Chief Representative, JICA Pakistan handed over the Master Plan for 20 years for the future of water supplies, sewerage and drainage in Faisalabad city to WASA Faisalabad. He appreciated JICA and WASA team work on masterplan development for three years and said "Government of Punjab and WASAs will further improve the systematic operation plan to enhance the improvement and sustainable management in water supply and sewerage services. JICA will continue to support WASA Faisalabad to provide better services to citizen and to build confidence between WASA and citizen"
Mr. Saifullah Dogar Deputy Commissioner while addressing the ceremony welcomed the JICA team for coming to Faisalabad and thanked the Government of Japan. He said that it would help in the betterment of supplying basic needs with the support of JICA for third big city and Manchester of Pakistan. He praised WASA Faisalabad for working on projects with development partners like DANIDA, AFD, and JICA.
Mr. Mahmood Javed Bhatti, Divisional Commissioner said that JICA has made significant contributions to basic needs for the people of Faisalabad. Mega projects of multi billions rupees, completed by mutual collaboration, are the practical evidence in this context. He mentioned that owing to increasing population, rapid urbanization and climate change, water and sanitation and disaster management are particularly important and are the issues of top-priority to be address in Pakistan. He further stated that Japan as a good friend would continue to support Pakistan in its future endeavors.
Vice Chairman WASA Faisalabad Mr. Shahid Shaikh addressed that the responsibilities assigned to him as a representative of Chief Minister of Punjab for the reforms of WASA Faisalabad and to provide the basic services as per international standards are a big challenge for him. He said that he is certain to complete these targets to reality with the help of professionals of WASA and development partners as per the vision of Prime Minister Imran Khan and Chief Minister of Punjab Sardar Usman Buzdar. He also said WASA will be a role model of self-sustained organization in the future.
Master Plan has been approved by FDA as per the understanding of JICA and Government of Punjab. JICA will continue our cooperation for the implementation of Master Planning.