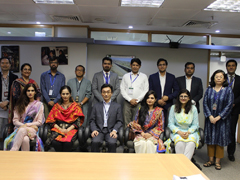 A group photo of trainees with Chief Representative of JICA, Mr. Shigeki Furuta
Islamabad, August 21, 2019: Japan International Cooperation Agency (JICA) dispatched 11 members group for "Economic Administration (Industrial Development and Promotion) Course" to Japan under the "Training Programme for Young Leaders". For this 18 days course, a sendoff ceremony was organized today in JICA Pakistan Office, Islamabad.
Mr. Shigeki Furuta, in his comments said to the participants that this program provides an opportunity to the young professionals belonging to different fields / sections for Government to 'learn and share variable experiences' in the respective areas. The knowledge gained from this 'program and lessons learnt from Japan' can further be disseminated to the government and people of Pakistan.
The "Training Programme for Young Leaders of Pakistan" is initiated by the Government of Japan under technical cooperation scheme for Pakistan. The forthcoming course has been designed essentially for young leading officials for basic education administration sector of the provincial and federal government in Pakistan. The "Training Programme for Young Leaders" was started by JICA in 1991 and till date around 600 government officials of various ministries and departments of the Government of Pakistan have been sent to Japan for training in various fields of technical and management positions.