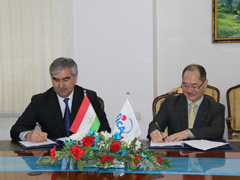 On February 3, 2020, a Grant Agreement for "the Project for Improvement of Medical Equipment in the National Medical Center "Shifobakhsh" and the State Institution of Republican Scientific Center of Cardiovascular Surgery" was signed by Mr. Faiziddin Qahhorzoda, the Minister of Finance and Mr. Hideki Tanabe, the Chief Representative of Japan International Cooperation Agency (JICA) in Tajikistan.
Understanding the importance of improving the specialized health services at tertiary level in Tajikistan, the Government of Japan has allocated 957, 000, 000 Japanese Yen (about 9 million USD) through JICA to support the said Project. The goal of the Project is to strengthen the capacity of making diagnoses as well as providing medical services in Tajikistan through procurement and installation of specialized equipment (approximately 78 items of 42 types of equipment). It is worth mentioning that JICA provided medical equipment to the National Medical Center (Dyakov Hospital) in 2005-2006. The new project is aimed at improving health services by providing additional equipment in wider scope.
Highlighting the importance of the improvement of medical equipment, Mr. Qahhorzoda stated that Tajikistan side will seek to improve proper operation and maintenance of the equipment to be provided by the Government of Japan. He touched on the necessity of building capacity of engineers to be able to maintain the equipment. Mr. Tanabe informed that JICA had already been supporting the Ministry of Health and Social Protection of Tajikistan by sending Tajikistan specialists to Japan to training on medical equipment maintenance. Both sides expressed willingness to continue cooperation in proper management of medical equipment to ensure their sustainable operation and maintenance.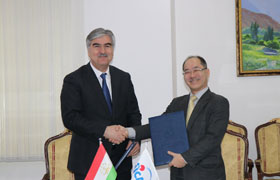 It is worth mentioning that Tajikistan is currently facing the problem of insufficient equipment in tertiary level hospitals. Having set the priority on access to quality health services, the Ministry of Health and Social Projection of Population has requested and cooperated with JICA to design and develop the Project.
For long years, JICA has been providing medical equipment to contribute to improvement of health services in the country. Besides this new Project, JICA has previously provided equipment to maternity department of hospitals in Khatlon and Maternity Hospital No 1 of Dushanbe, etc.