Cambodia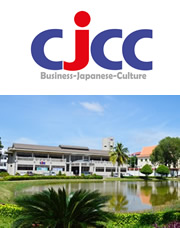 Cambodia achieved a peace accord and began working towards post-war reconstruction in 1991. It is engaged in ongoing efforts to develop a genuine market economy, but is still significantly hampered in development by the scars of 20 years of civil war, which means that there are many issues outstanding in terms of both "hard" and "soft" aspects.
Meanwhile Cambodia was accepted into the WTO in 2003, and human resources development and the creation of systems in order to cope with the transition to a market economy are currently urgent issues.
The Cambodia-Japan Center has implemented business courses involving a broad spectrum of corporate leaders, managers and entrepreneurs. These courses have not only led to the creation of employment in Cambodia, and promoted entrepreneurship, but they have also played a key role in strengthening exchange and cooperation between Cambodia and Japan.
*Project Term
Cambodia-Japan Cooperation Center
April 2004 - March 2009 (1st Phase)
April 2009 - March 2014 (2nd Phase)
April 2014 - March 2019 (Project for Institutional Capacity Development of CJCC for a Center of Development and Networking for Business Human Resources)
*Project Site : Phnom Penh
*Counter Part : Royal University of Phnom Penh (external link)
*Open : February 2006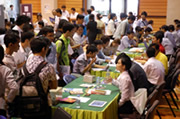 Job Fair 2012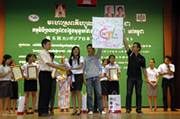 Japanese Speech Contest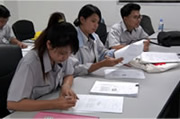 Customized Japanese language course