P.R. materials
Here you can browse Japan Center's P.R. materials. New material shall be posted as needed.
Japan Panorama (Brief Reading in English)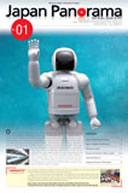 "Japan Panorama" was published in order to introduce Japan's high technology and to pass on the significance of studying in Japan to the students across the world. This is all about what's attractive in Japan!