Laos
Since the introduction of "the Labop My" (New Economic Mechanism) in 1986, Laos has made progress towards becoming a market economy. The country's economy has grown steadily, and while it was subject to the impact of the 1997 Asian economic crisis, it began to recover in 1999.
Laos is working towards economic integration to ASEAN in 2015, and is concentrating on adjusting environments in order to promote foreign direct investment, through measures such as the abolition of customs duties. At the same time, alongside the reductions in regional customs duties, Laos has been inundated with cheap products from neighboring countries, leading to fears that its trade deficit will increase further. As a result, there is an urgent need for strengthening within the private sector, in order to meet the demands of ASEAN integration.
The Laos-Japan Center was opened in 2000 in the National University of Laos. Since that time, it has been a pioneering center for the training and development of business personnel within Laos and for the formulation of human-based network between Japanese enterprises and management personnel.
*Project Term
Lao-Japan Human Resource Cooperation Center
September 2000 - August 2005 (1st phase)
September 2005 - August 2010 (2nd phase)
Capacity Development of Business Persons through Lao-Japan Human Resource Development Institute
September 2010 - August 2014
The Project on Capacity Building for Supporting Private Sector Development and Japanese Investment in Lao P.D.R. through LJI of NUOL
September 2014 - August 2019
*Project Site : Vientiane
*Counter Part : National University of Laos (external link)
*Open : May 2001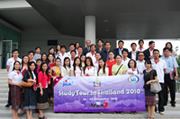 Study tour to Thailand for MBA students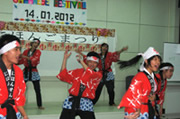 Japanese language festival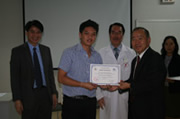 Business Course graduation ceremony