Kazakhstan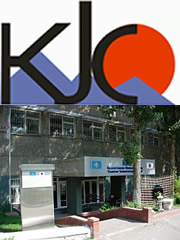 Since independence in December 1991, Kazakhstan has transitioned swiftly towards a market economy by stimulating the short-term capital inflows from the West and the foreign direct investments as a part of innovative measures in financial market.
In the mean time, Supported by the export of natural resources and agricultural produce such as petroleum and wheat, as well as investment in construction, the country recorded actual GDP growth rates of between 9-10% in the mid-2000s. The financial crisis caused by the sub-prime shock that occurred in August 2007, and the subsequent global recession has slowed economic growth, but actual GDP has maintained positive growth since 2008.
There has been significant inward investment by European and American companies, and while some graduate schools now offer MBA courses, the "Japanese Management" courses taught by the Kazakhstan-Japan Center have been attracting attention as a new method of developing business.
Operational support for the Kazakhstan-Japan Center as part of JICA's technical cooperation project ended in September 2012, but its activities including JF Language Course and many others are being maintained by the Japan Foundation and the Kazakh Economic University.
*Project Term
Kazakhstan-Japan Center for Human Development
October 2000 - September 2005 (1st Phase)
October 2005 - September 2010 (2nd Phase)
Project for Enterprise Development through Kazakhstan-Japan Center for Human Development
October 2010 - September 2012
*This Project ended in September 2012, but the activities of the Japan Center have been continuing.
*Project Site : Almaty, Astana
*Counter Part : Turar Ryskulov New Economy University (NEU) (external link)
*Open : September 2002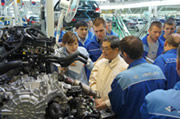 Kaizen training at the Kazakh factory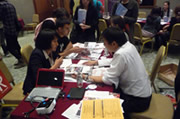 Study-in-Japan Fair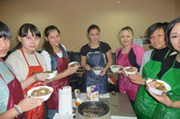 Japanese cooking class in the mutual understanding programs