Mongolia
Mongolia began transitioning into a market economy in the 1990s. Thanks to rising prices for minerals, of which it has significant resources, Mongolia has achieved outstanding rates of economic growth, reaching a predicted figure of 11.47% in fiscal 2011. At the same time, there has been little progress in the development of industries other than mining, and the development and strengthening of small and medium-sized enterprises are significant issues from the perspectives of the diversification of industry and creation of employment.
The Mongolia-Japan Center has been offering the significant training for SME business personnel to understand Japanese style business management, and produced over 500 quality alumni until today. Recently the Center is becoming recognized for providing skillful schooling to major companies.
*Project Term
Mongolia-Japan Human Resources Development Cooperation Center Project
January 2002 -January 2007 (1st Phase)
January 2007 -January 2012 (2nd Phase)
Project for Capacity Development of Business Persons through Mongolia-Japan Center for Human Resources Development
January 2012 - January 2015
January 2015 - April 2015 (extension period)
Project for Enhanced Function of Mongolia-Japan Center for Human Resources Development for Capacity Development and Networking of Business Persons
*Project Site : UlanBator
*Counter Part : The National University of Mongolia (external link)
*Open : June 2002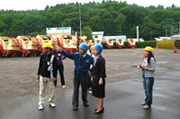 Training by KAIZEN Association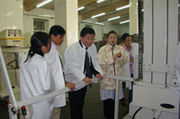 Individual consultation for the model company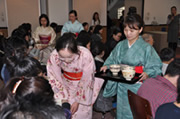 Introductive event of the tea ceremony "Sado"