Ramon Magsaysay Award ceremony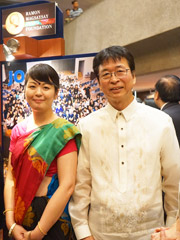 Former JOCVs Rina Tanaka( left), and Kenichi Kubota (right) , attended the award ceremony
A ceremony to confer the Ramon Magsaysay Award to the Japan Overseas Cooperation Volunteers (JOCVs) and related events were held in Manila, Philippines, from Aug. 27 to Sept. 2. Representing some 41,000 JOCVs in the event were former JOCVs Kenichi Kubota (sent to the Philippines from 1980 to 1982) and Rina Tanaka (sent to Bangladesh from 2012 to 2014), along with JICA President Shinichi Kitaoka and JICA Vice President Kae Yanagisawa.

At the Aug. 31 award ceremony, a trustee of the Ramon Magsaysay Award highlighted the contribution of the JOCVs to international solidarity, who have worked for more than 50 years with an emphasis on collaboration with local people.

In response, Mr. Kitaoka said, "I think it is a great honor that the JOCVs received this award. So far JOCVs have developed a relationship of trust with the people of Asia while respecting local culture and customs, working with local people to overcome difficulties, sharing joy with them and contributing toward solving local problems. We will continue to take on new challenges while walking hand in hand with partner countries and working diligently to contribute to world peace and prosperity."

At the lecture held on Sept. 1, Ms. Yanagisawa introduced the contribution of the JOCVs and future prospects, and former JOCVs Mr. Kubota and Ms. Tanaka spoke about their own experiences as JOCVs and subsequent activities.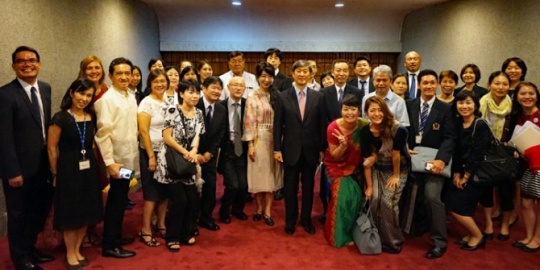 Former and current JOCVs with staff from the JICA office and stakeholders from the Philippines
Courtesy visits to Cabinet members under PH new government
On Aug. 31, Mr. Kitaoka held talks with Finance Secretary Carlos G. Dominguez and National Economic and Development Authority (NEDA) Socioeconomic Planning Secretary and Director-General Ernesto Pernia, both Cabinet members under the new government of the Philippines whose agencies are active partners of JICA programs.

Both Cabinet members emphasized the new government's prioritized policies in the areas of poverty reduction, security measures against crimes, and peace and stability within and surrounding areas of the Philippines. Also, they expressed their appreciation for JICA's assistance in above areas and expectations for continued support. As examples of policies that support the priorities of the new Philippine government, Mr. Kitaoka shared the importance of introducing quality infrastructure to alleviate traffic congestion in Metro Manila as well as rural development, strengthening maritime safety and support for peace building in Mindanao. Both sides affirmed that they will continue the mutual partnership and put effort into projects that are significant for the Filipino people.