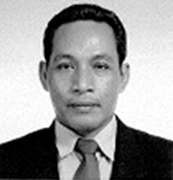 Course Title: Tuberculosis Laboratory Network for DOTS[*] Expansion, 2007 International Training and Dialogue
Implementing Partner: The Research Institute of Tuberculosis, Japan Anti-Tuberculosis Association
Organizer: Tokyo International Center (JICA TOKYO)
*DOTS stands for Directly Observed Treatment Short course that is the internationally recommended strategy for tuberculosis control.
---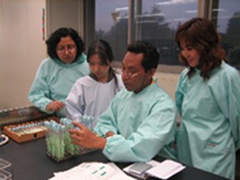 After working as a supervisor in Bali, I was transferred to my current position in February 2007. Now I oversee the coordination of tuberculosis (TB) laboratories nationwide. My immediate priority is to develop a comprehensive set of guidelines to standardize and update the work done in TB laboratories throughout Indonesia. To meet this objective, I needed to a gain a thorough understanding of how TB laboratory work is done. My intensive JICA training provided me with a practical understanding of the workings of a well-run TB laboratory. Equipped with these fundamentals, I am confident that I can now successfully accomplish my work.
Even though we have a national TB program in Indonesia, our laboratories need to be restructured. One of the most challenging areas we need to address is the quality of our personnel and the number of individuals we have on staff to perform the work required. Because these laboratories are crucial for case detection and treatment follow-up, we need the right number of skilled people in our facilities. Therefore, improving the work being done in these laboratories is a top priority.
Upon my return to Indonesia, I will develop an effective laboratory training manual based on the book written by Dr. Fujiki, one of our course leaders. This handbook will be used for training courses in all 33 of our provinces. The teachers for these courses will be pre-qualified through a JICA Training of Trainer (TOT) for TB Laboratory course. With this superior JICA education, I am confident that we will develop an effective Indonesian TB laboratory system.