Course Title: Coastal Fisheries Resource Management 2008, Group Training
Implementing Partner: INTEM Consulting, Inc
Organizer: Yokohama International Center (JICA Yokohama)
---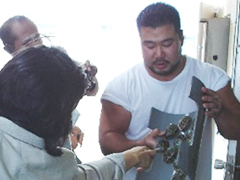 What an amazing technique!
I work as a fishery technician at a governmental fisheries and aquaculture development center, taking charge of many projects in relation to the fishery resource management.
In El Salvador, Fishery has good economic potential. However, there are some issues on coastal fisheries. For example, we do not have exact data which shows how many fishermen, what kind of fisheries and how much yield we have. Moreover there is heavy competition among the unorganized artisan fishermen. And they do not have the idea that it is necessary to release small fish for fisheries management.
I had taken the training of inland water fisheries in El Salvador. However, I had never seen practice of marine fisheries before JICA's training. I have obtained a lot of marine fisheries knowledge through JICA's training course. I learned also that Japanese organization and their system are well established, and all the people work in earnest.
I was very impressed by visiting a project site of artificial reefs and farming fisheries in Kyoto, because I found practical and applicable techniques of them. By using both of them, I think we could manage and increase fisheries resource, and thereby the income of fisherman would be improved.
After returning to my country, I would like to use the device of the farming fisheries to my projects to start with. It's not overall solution to problems of fishery in my country, but it's meaningful from the point of view of practical way.