Course Title: Upland Rice Variety Selection for Africa, 2009 Country-focused training
Implementing Partner: Appropriate Agriculture International Co., Ltd.
Organizer: Tsukuba International Center (JICA TSUKUBA)
---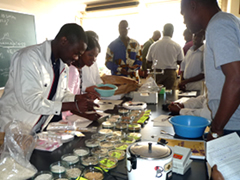 I am a Research officer of crops agronomy in Bulindi Zonal Agricultural Research and Development Institute in Uganda. My area has different problems from those in the capital area of Uganda. The most serious problem is drought caused by unpredictable rainfall. Besides that, there are limited options of upland rice varieties that meet biological attributes of early maturity, disease resistance, and good cooking quality yet also with good taste and aroma. In addition, due to lack of an appropriate management system for rice seed, with no clear policy on rice seed production, quality assurance and marketing, farmers have to use poor and often unreliable quality of rice seed yet subsidy by Ugandan Government is short. Furthermore, most farmers and, even extension workers have only poor knowledge in rice cultivation techniques.
Therefore, I expected to learn from this JICA training course "Upland Rice Variety Selection for Africa" better skills to conduct relevant research and generate adaptable technologies for my region. Specifically, I wanted to acquire knowledge and techniques about (1) how to select upland rice variety with desirable agronomic attributes, which is suitable to various niches in production system in my area, including physical environmental condition, ecologies, resources, and farming system, (2) how to produce clean seed with uniformed standard, and (3) how to analyze weather data which affects growth and yield of upland rice.
In this training, I learnt (1) outline of upland rice in Japan, including foundation of variety screening, legal basis, and roles of local governments, (2) practices on soil and water relations, and how to utilize weather data in upland rice cultivation to predict damages and impacts on rice crops at Tokyo University of Agriculture, and (3) life cycle, morphology, nutrition and physiology of rice crop with some experiments on how to select rice varieties with the true resistance or field resistance to particular race pathogen depending on its nature.
After returning to my country and discussing my plan with my boss, I will (1) evaluate and document facts about released upland rice varieties for farmers and other development partners in my region. My institute will evaluate the rice varieties along with the farmers and guide them in selecting the best seed varieties based on results from the participatory adaptive experiments. It will take three years. In the mean time, I will (2) produce foundation seed of four promising varieties from my preliminary screening test of all the available upland varieties, and subsequently multiply more seed of the selected varieties for distributing to relevant parties including farmers' associations and NGOs, and give on-spot trainings to impart knowledge and techniques in rice culture. Along with (1) and (2), I will (3) build capacity of identified seed producers on how to ensure physical and genetic purity of seed materials, and (4) create awareness on rice cultivation techniques by training farmers and accepting visitors to my institute, so that we can demonstrate improved rice cultivation technologies and disseminate knowledge on rice production. I believe that my action plan to rice production will significantly contribute to overcoming the identified difficulties in my area.
January 13, 2011