Course Title: Upland Rice Variety Selection for Africa, 2009 Country-focused training
Implementing Partner: Appropriate Agriculture International Co., Ltd.
Organizer: Tsukuba International Center (JICA TSUKUBA)
---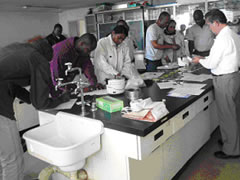 I am working as a regional coordinator of Irrigation, responsible for Rice Production Site, DRAHRH Center South, Ministry of Agriculture.
In Burkina Faso, the amount of rainfall is very small. Therefore, we need to select drought-resistance NERICA varieties to increase rice yield. However, Burkina Faso has been facing difficulties, including (1) low productivity of rice due to weather condition, (2) very few advanced technology due to its high cost, (3) poor knowledge about upland rice cultivation among farmers. Therefore, although rice is very important food for my country, Burkina Faso has to depend on imported rice.
This JICA course "Upland Rice Variety Selection for Africa" in Japan gave me very fruitful knowledge in theory and practice in:
Cultivation and management techniques of upland rice;
Varietal evaluation and selection in upland rice;
Maintenance and multiplication of the breeder's seed and basic seed paddy;
The knowledge, techniques and system I learnt in Japan for four months are more precious than those I obtained in my work in my country.
Upon returning to my country, I would like to start my three-year action plan based on what I learnt in Japan: (1) to select 80 farmers and train them for group seed production in farmers' field schools in the first year, (2) to multiple selected seed varieties for other farmers and give them knowledge and training directly through these selected farmers in the second year, and (3) to disseminate selected seed varieties to all farmers in the third year. In the final stage, 1600 farmers will be furnished with certified seed and 20 tons seed will be used for this plan. I have already talked about my action plan to my boss and he has approved it with a few amendments. Therefore, I am sure my plan will work well in Burkina Faso.
I will transfer what I experienced and learnt in this course to our people in order to increase rice productivity in my country.
January 13, 2011