Course Title: Management of Human Capacity Development Programs 2007, Group Training
Implementing Partner: Career Research Laboratory, SFC Research Institute & Faculty of Policy Management, Keio University
Organizer: Tokyo International Center (JICA TOKYO)
---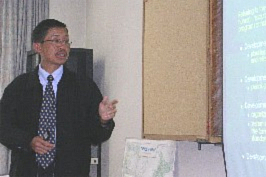 As the Head of Division of Technical Training, State Secretariat, I am in charge of planning, organizing, evaluating and reporting technical training. I am also responsible for operation of technical training in overseas.
Since my organization and position is relatively new, I state that the training program is very beneficial for me and organization. The most useful subject is a linkage between Human Resources Development and training & education; on the job training (OJT) and on the job development (OJD) as well as relationship between career path and required training.
After returning to my country, I will share knowledge and experience gained from JICA training program in Japan. Moreover, I will apply OJT for my staff. OJT in broad sense covers not only learning by doing job or assignment but also learning and development through job experience including self-motivation, self-improvement, and self-development plan. In addition, I will formulate a map of career path and required trainings from low to high positions. This map enables all officials to look at possible career and choose appropriate training to achieve their career. In turn, all officials are encouraged to improve their skills, knowledge and personality/attitude which improve individual and organizational performance.
March 15, 2011