Course Title: Upland Rice Variety Selection for Africa, 2009 Region-focused training
Implementing Partner: Appropriate Agriculture International Co., Ltd.
Organizer: Tsukuba International Center (JICA TSUKUBA)
---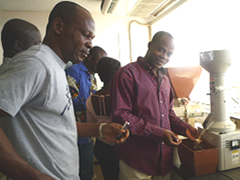 My job title is Zonal Manager. I am working for coordinating agricultural activities in Ebonny State in Nigeria.
Ebonny State is a major green area where lowland rice is produced. However, diseases often attack lowland rice. On the contrary, upland rice is resistant to diseases. Therefore, Nigeria needs to select ideal varieties of upland rice and introduce them to farmers. Further, Nigeria is facing the difficulties of low yielding and poor quality of upland rice. Farmers need to get knowledge about how to control seed quality of upland rice and how to multiply seeds. In JICA's training course "Upland Rice Variety Selection for Africa", I expected to learn how to produce seeds with high quality, how to multiply such seeds, and advanced techniques and knowledge for increasing production of upland rice. I also expected to learn how to select ideal varieties of upland rice for Nigeria.
This JICA course met my expectation. I leant (1) techniques for selecting upland rice varieties through lectures, demonstrations, and filed practices, (2) very practical seed multiplication through visit to research institutes and farms, and (3) knowledge about general technology of upland rice when we went to Tokyo University of Agriculture. Especially, the (3) is the best experience I had in this course. I learnt how and what to apply soil and fertilizer, practical knowledge through lectures by a professor, and water management, disease control, general technology of seed production, and how to analyze data resulting from selection of upland rice varieties.
After returning to Nigeria, I will (1) meet groups of farmers to tell them my mission, technology and knowledge I learnt in Japan, and (2) organize trainings for extension workers and teach them how to convey to farmers knowledge I learnt in Japan. The trainings should be practical including demonstration of techniques just like I experienced in Japan. Then, I will (3) monitor how extension workers teach farmers to make sure farmers get correct information, and (4) test 22 varieties upland rice in fields in cooperation with farmers under the same environments and conditions, analyze the data of the result, and inform it to farmers. Thereby, the farmers can select their preferable variety by themselves. In addition, I conduct adaptability test according to regions and environmental conditions. Lastly, I will (5) multiply and disseminate upland rice seed with 50% subsidy by Nigerian Government. It will take five years to complete this project. I believe my project can ensure the right selection of upland rice varieties and high quality of seed, and lead to high yielding of upland rice.
April 15, 2011