Course Title: Rural Community Development by Livelihood Improvement Approach for Africa, 2010 Region-focused training
Implementing Partner: NTC International Co., Ltd
Organizer: Tsukuba International Center (JICA TSUKUBA)
---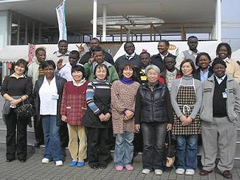 I am a principal community development officer, Directorate of Community Development, Ministry of Cooperation and Rural Development. In my job, I find problems and needs of farmers in rural areas, and give solutions to them. Further, I plan and conduct a meeting for farmers.
Since Sudan is badly ravaged by Sudanese Civil War, I strongly believe this approach could be very effective for us to emerge as a newly-born peaceful country just like Japan recovered from World War II. However, we do not have good training skills and techniques for farmers, therefore, it is very difficult to teach them to change their community.
Therefore, I expected to learn how to train farmers, how to tell them the effect of livelihood improvement approach, and how to organize them to form a group. People in Southern Sudan are very poor. I want to improve their life through livelihood improvement approach.
All subjects I learnt in this course were very useful. I could gain knowledge about livelihood improvement program. I could learn the way of organizing and managing a group. I could learn the functions and effects of a group. I could witness the clever ways and power of a group when I visited to Yamaguchi and Chiba. The ways they used local resources, add value to them, and sell them by themselves were quite interesting.
After returning to my country, I will sensitize farmers in rural areas with posters and/or photographs. I will talk to the chief of a community, gain his approval, and then, have a meeting to introduce or demonstrate livelihood improvement approach to the community. If some of them get interested in the approach, we register them as group members. Thereby, we can know where they live. There are already two target groups in my area. One group has 15 members and a common farming land to grow vegetables. The other has 20 members and is doing bee-keeping. I monitor and consult them every day. My organization is going to form another group to start chicken farming. I hope these three groups can succeed in their project, and become a good example.
May 18, 2011