Course Title: Energy Policy (B)
Implementing Partner: The Institute of Energy Economics, Japan
Organizer: Tokyo International Center (JICA TOKYO)
---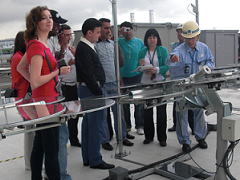 I am a junior scientific researcher of Energy Strategy Center of Scientific Research Institute of Energy. My job is to make an energy development plan, collect and analyze data, and forecast energy demand and consumption.
In Armenia, energy sector is the most developed one. However, we need to improve energy efficiency to meet public demand. We need to increase energy self-sufficiency which is only about 30% now. That is why I want to learn the knowledge for a plan making for a short term and a long term, especially, relating to renewable energy. In addition, I want to learn the method of forecasting energy demand and consumption.
In this course, I visited several advanced facilities, such as a solar electric generating system and a hydro power plant. I was very impressed by these leading-edge facilities. I think they will be a model of future power stations in my country. Further, the lecture of "change lifestyle and energy demand in Japan" was very helpful for me in order to promote energy efficiency and eco-friendly energy development.
After returning to my country, I will create a new energy plan to increase energy efficiency and decrease CO2 emission by comparing with an energy development plan of Japan. I believe the subjects and experiences in this course are very meaningful for me.
July 15, 2011