Course Title: Tsunami Disaster Mitigation 2010, Region Focused Training
Implementing Partner: Building Research Institute
Organizer: Tsukuba International Center (JICA TSUKUBA)
---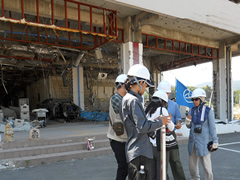 In 2008, Indonesia developed Tsunami Warning System. Since then, I have been working as a staff of Indonesian Tsunami Early Warning System (InaTEWS). I monitor seismic activity. When earthquake occurs, I promptly analyze data of earthquake. When there is possible tsunami threat, we also issue a warning to people within five minutes. Further, I analyze data of earthquake and tsunami scientifically and make a report for preparing for future disaster.
However, we face lack of advanced knowledge about earthquake and tsunami. Therefore, I expect to learn almost all subjects relating to this field. In Japan, I could learn a lot, for example, mechanism of earthquake, tsunami source, mechanism of tsunami generation, propagation, and inundation.
With this knowledge, I can monitor, analyze, and report earthquake and tsunami more clearly, accurately and scientifically, which can be beneficial to other organizations, for example, when they prepare a tsunami hazard map and evacuation policy.
Like Japan, Indonesia is one of the earthquake prone countries. We experienced tsunami disasters many times. I hope that I and my organization can work better for mitigating tsunami disaster.
October 20, 2011