Course Title: Tsunami Disaster Mitigation 2010, Region Focused Training
Implementing Partner: Building Research Institute
Organizer: Tsukuba International Center (JICA TSUKUBA)
---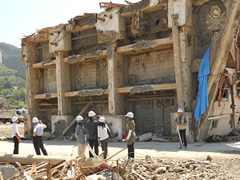 I am an assistant director in Geophysics and Tsunami Division, Malaysian Meteorological Department (MMD). My job is to monitor earthquake and tsunami and to predict the tsunami generating place and the possible tsunami-hit area.
After Sumatora Earthquake in 2004, Malaysia established tsunami warning system and started to monitor tsunami. However, we are facing a shortage of staffs that have expertise in earthquake and tsunami. We need to nurture human resources and strengthen our organization.
I want to learn seismology more deeply and enrich my knowledge. For example, I learned tsunami simulation. By using this, we can know how tsunamis generate, propagate, and inundate, and predict where and when tsunami will hit, how strong the tsunami can be, and how we should formulate countermeasures including warning to public and preparing hazard maps. I was very shocked in observation trip to Tohoku disaster-hit areas. I realized what enormous and terrible damages tsunami could cause.
After returning to my country, I want to adapt my knowledge learned in Japan. For example, I will prepare some materials about earthquake and tsunami, including photos I took in Tohoku, to educate public. In addition, I will update tsunami simulation system by expanding the simulation area so that we can predict tsunami more accurately and scientifically. My division sends a couple of participants to this course every year. I believe that our efforts and accumulated knowledge will lead to mitigate tsunami disaster in Malaysia.
October 20, 2011