Course Title: Energy Policy (B) 2011, Group Training
Implementing Partner: The Institute of Energy Economics, Japan
Organizer: Organizer: Tokyo International Center (JICA TOKYO)
---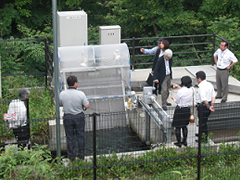 My job is Assistant Professor, Thermal Engineering Department, University of Nis. I teach heat power plant and electric production plant. I am also involved in research project with Serbian government and private companies.
In Serbia, energy efficiency is very low not only in public sector but also in private sector. In addition, we do not have a clear policy to make regulation about how to use various energy resources.
In this course, I learned how Japan implements energy policy and what perspectives Japanese government has on efficient use of various kinds of energies. I also learned how Japanese government predicts and monitors power consumption, and makes a guideline for conservation of energy.
After returning to my country, I want to constantly discuss my students about what we can do to improve energy efficiency. This can be a starting point to spread such an idea to public. I also want to draw up educational guidelines for this matter with my colleagues.
December 27, 2011