Course Title: Tsunami Disaster Mitigation 2010, Region Focused Training
Implementing Partner: Building Research Institute
Organizer: Tsukuba International Center (JICA TSUKUBA)
---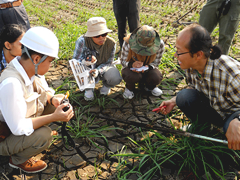 I am a research assistant in Geophysical Institute of Peru. I research effects of tsunami in the past. I also analyze tsunami data to specify when, how and where the tsunami occurs.
We don't have enough tsunami researchers though Peru is a tsunami-prone country. In addition, there are few opportunities of learning the methodology of tsunami in Peru.
All lectures were very important for me. Especially, the lecture about tsunami simulation was the most useful in order to study past and future tsunamis in my country. Further, study trips to Kansai and Tohoku helped us understand the importance of tsunami countermeasures and warning system in Japan.
After returning to Peru, I will study tsunamis in the past more deeply by utilizing numerical simulation and tsunami methodology which I learned in Japan. My experiences in Japan give me various important ideas about how we can mitigate future tsunami disasters including drawing tsunami inundation maps and countermeasures.
January 4, 2012