Course Title: Tsunami Disaster Mitigation 2010, Region Focused Training
Implementing Partner: Building Research Institute
Organizer: Tsukuba International Center (JICA TSUKUBA)
---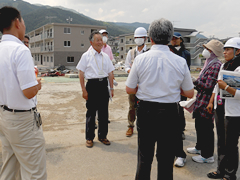 I am a meteorologist at Geophysics and Tsunami Division of Malaysian Meteorological Department. I am responsible for monitoring and operating the whole system and network of Malaysian National Tsunami Warning System (MNTEWS). I am also involved in public awareness campaign against tsunami disaster.
After 2004 Sumatra Earthquake and tsunami, Malaysian government established early warning system. However, there is a lack of experts in seismology and tsunami. That is why I want to learn Japan's advanced technology relating to this sector.
In Japan, I could learn disaster management policy including tsunami mechanism and tsunami hazard map. The lecturers taught us very sincerely. I could ask questions to the lecturers through e-mail even after the lectures.
From experiences in March 11 and Tohoku study trip, I strongly realized that I should share these experiences with public and educate them about how they should deal with such a terrible situation. I will continue to work hard to mitigate tsunami disaster by utilizing knowledge and technology learned in Japan.
January 4, 2012