On November 12, a groundbreaking ceremony was held for the Integrated Marine and Fisheries Center or Sentra Kelautan Perikanan Terpadu (SKPT), which will be developed under the Grant Aid Project "Programme for the Development of Fisheries Sector in Outer Islands", in Saumlaki, Maluku Province, Republic of Indonesia.
Representing Indonesian side, Ir. Tri Aris Wibowo, M.Si, Director for Fishing Ports, Ministry of Maritime Affairs and Fisheries, Daniel Eduard Indey, Bupati (Regent) of Tanimbar Islands, attended the ceremony. Meanwhile, representing Japanese side, Kenji Okamura, Senior Representative of JICA Indonesia Office, attended the ceremony. During the speech, Ir. Tri Aris Wibowo expressed his appreciation to Japan's cooperation and mentioned that this Programme will not only contribute to the regional development but also symbolic cooperation based on the political commitment between both countries.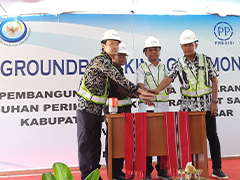 Groundbreaking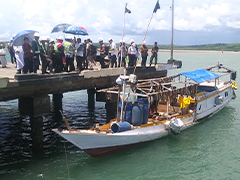 Local Fishing Boat
JICA signed a Grant Agreement (G/A) with the Government of Indonesia for phase 1 (one) in July 2018 for 2.5 billion yen, and for phase 2 (two) in February 2021 in 3 billion yen. The financial support will be utilized for the Indonesian Government's plan to develop fishing port facilities and markets on six remote islands in the Indonesian periphery. Moreover, in December 2020, JICA and the Government of Indonesia signed a Record of Discussions (R/D) for Technical Cooperation Project, "The Project for Promoting Sustainable Fisheries Development in Outer Islands of Indonesia", which includes Saumlaki as one of its target area. This technical cooperation includes training for SKPT users (fishermen, cooperatives, women's groups, etc.) and administrators on the six remote islands, to support for the human resource development for the revitalization of the local fishery industry and also for the formulation of SKPT operation and management plans.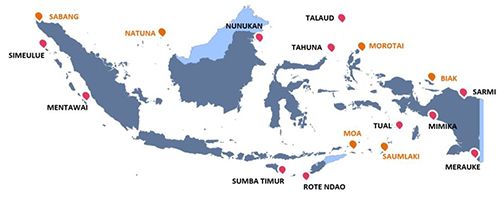 Location of 6 Outer Islands (Orange Color)
The construction of fishing port facilities in Saumlaki, including piers, integrated cold storage and ice block machine, will enable local fishermen to use the well-equipped fishing port, thus, increasing the added value of marine products and promoting their distribution outside the island. The construction is also expected to lead to the revitalization of the local fishing industry and improve the livelihood of coastal communities.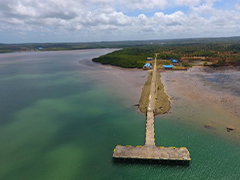 Current Fishing Port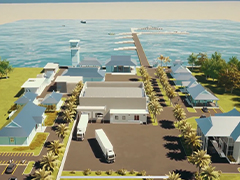 Completion Image
Fishing port facilities and markets in Biak Island, one of the target areas under the Grant Project, completed in 2021, and now the construction will be started in Saumlaki and other remaining remote islands. As a result of the improvement of fisheries business environment through the Grant Project, Biak has started exporting fresh tuna to Japan and frozen tuna to the United States, thus contributing to the revitalization of the local fishery industry.
For further questions please contact:
Project Details:
JICA Indonesia, officer in charge, Reisky Maulana
Tel.: +62-21-5795-2112 (ex.419)
E-mail: ReiskyMaulana.IN.2@jica.go.jp
JICA Indonesia Office:
JICA Indonesia, PR unit, Putri Siahaan
Tel.: +62-21-5795-2112 (ex.222)
E-mail: putrisiahaan.in@jica.go.jp