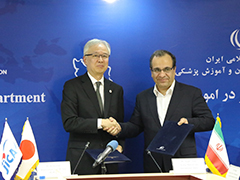 The 24th of November 2019, the Japan International Cooperation Agency (JICA) and Ministry of Health and Medical Education (MOHME) of the I.R. Iran signed a Record of Discussions (R/D) for the Project for Improving Medical Services in the Islamic Republic of Iran through Japan's Medical Management Models.
The project will help to ensure the improvement of the medical services for patients with non-communicable diseases including elders through the dissemination of knowledge and experience about advanced cases and medical policies in Japan. It will contribute to the achievement of SDG Goal 3 in the Islamic Republic of Iran.
In Iran, the structure of diseases has been converted from a focus on maternal and child health and communicable diseases to non-communicable diseases in the past 20 years. The mortality rate for children under 5 has been reduced from 30.6 in 2002 to 14.4 in 2018 and the maternal mortality rate has been reduced to 25 ( in 100,000 ) in recent years. In addition, the life expectancy in Iran has been extended from 53.9 in 1970s to 76 in 2018. According to the statistics in 2010, 76% of deaths in Iran were caused by NCDs, 46% of which were caused by cardiovascular diseases (CVD), 13% by cancer, 4% chronic respiratory diseases, 2% diabetes and 11% by other NCDs. Communicable diseases has also made 10% of the overall cause of death in Iran. In response to these issues , Ministry of Health and Medical Education of the Islamic Republic of Iran has decided to improve the quality of the health care services not only through improvement of medical facilities and equipment but also capacity building of the health sector personnel.
Mohsen Asadi Lari, Acting Minister for International Affairs of Minister of Health and Medical Education of the I.R. of Iran also expressed his gratitude for the financial and technical assistance made by the Government of Japan to Iranian Ministry of Health including donation of mobile clinic to the National Emergency Medical Organization (NEMO) of I.R. of Iran as an assistance to the country for improving access to essential health services in times of disasters, donation of Physical Therapy equipment to Arak University of Medical Science, providing fund to UN-Habitat for the implementation of the project on " Improving the Multi-Hazard Resilience of Hospitals in Iran", Donation of 50 digital Mammography, and Grant Aid for improvement of medical equipment to Imam Hussein and Arash Hospital.
Yukiharu Kobayashi, Chief Representative of JICA Iran Office said: "with signing of this R/D, Iran and Japan have made one crucial step to strengthening their mutual cooperation and Iranian government officials will learn how Japanese medical facilities work and manage in the above-said fields, which subsequently improve the medical services in Iran."
This technical cooperation aims at developing human resources through learning about medical technology and management being operated in Japan for many years. By implementing the said project, the medical services in Iran will be improved through policy recommendations in different fields of hospital management, medical care for elders, hospital design and construction, non-communicable diseases control and cancer control and management. By sharing the knowledge and experiences Japan has acquired in the said fields for many years, it is expected that patient-centered medical services introduced in Japan will be disseminated throughout Iran in the future.