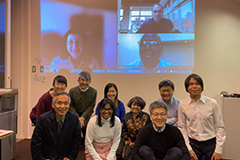 JICA Ogata Sadako Research Institute for Peace and Development (JICA Ogata Research Institute) held a round-table workshop on the project "The New Dynamics of Peace and Development in the Indo-Pacific: How Countries in the Region Proactively Interact with China" on Oct. 21 and 22, 2022. This meeting was held at The University of Tokyo's Yamanaka-Ryo in Yamanashi prefecture, Japan. It was attended by seven international co-researchers (four in-person and three online), along with JICA Ogata Research Institute Executive Director Takahara Akio, Visiting Fellows Kitano Naohiro (professor at Waseda University) and Shiga Hiroaki (professor at Yokohama National University), Research Fellow Asada Rei, and Research Officer Imai Natsuko.
Several Indo-Pacific countries are currently experiencing political tension. Examples include the situation between the US and China and the Russian invasion of Ukraine. This research aims to examine how those countries attempt to build bilateral relations with bigger powers, including China, to establish sustainable peace and development. From the perspective of traditional international politics and international relations, it is often assumed that the relationships between great powers and smaller states are dominated by the former, leaving virtually no room for the latter to maneuver; however, in reality, bilateral relations have been developed under the complexities of dynamism driven by various actors. The focus of this research is to examine the domestic and international factors which impact bilateral relations between Indo-Pacific countries and China, with a particular focus on the agency of the smaller states.

Case studies include the Philippines, Laos, Sri Lanka, Bangladesh, Uzbekistan, Serbia, and Zambia. The prominent researchers below have been invited to the project to examine the situation in the respective countries used as case studies.

(In-person participation)
Kuik Cheng-Chwee, Professor
The National University of Malaysia: The case of Laos

Alvin Camba, Assistant Professor
University of Denver: The case of the Philippines

Chulanee Attanayake, Research Fellow
Institute of South Asian Studies, National University of Singapore: The case of Sri Lanka

Lailufar Yasmin, Professor
Dhaka University: The case of Bangladesh

(Online participation)
Timur Dadabaev, Professor
University of Tsukuba: The case of Uzbekistan

Dragana Mitrovic, Professor
University of Belgrade: The case of Serbia

Godfrey Hampwaye, Senior Lecturer
University of Zambia: The case of Zambia

This project began in July 2022 and each member has undertaken research activities. All researchers presented their preliminary research findings at the workshop, and all participants discussed and exchanged opinions on areas that require further analysis concerning each country. They also considered the perspectives of cross-country analysis as a whole.