On Dec. 3-4, 2022, the 33rd Japan Society for International Development (JASID) Annual Conference was held as a hybrid event (in-person and online) at Meiji University Surugadai Campus. The overall theme of this conference was "The Global Crisis and International Development: Conflict, Inflation and Hunger." Researchers from the JICA Ogata Sadako Research Institute for Peace and Development (JICA Ogata Research Institute) presented their findings, followed by active discussions.

Empirical Research on the Impacts of Study Abroad in Developing Countries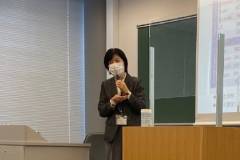 In the session on education, JICA Ogata Research Institute researchers Kayashima Nobuko, senior research advisor; Sugimura Miki, visiting fellow (also a professor at Sophia University); Kuroda Kazuo, visiting fellow (also a professor at Waseda University); and Kitamura Yuto, visiting fellow (also a professor at The University of Tokyo), along with Umemiya Naoki, professor, Sophia University, gave a report on "Empirical Research on Impacts of Study Abroad in Developing Countries - based on Study Abroad Experiences of Academic Professionals of Major Universities in ASEAN Countries -," which is a research project by the institute.

In this research project, a questionnaire survey (approx. 3,300 respondents) and interviews targeting faculty members of 10 leading universities in Cambodia, Indonesia, Malaysia and Vietnam were conducted. The results showed that by having faculty members studying abroad, there was a huge impact on university development in all of these countries. In addition, the significance of having faculty members studying abroad was shown to be changing due to the internationalization of higher education in recent years. Furthermore, impacts differed depending on the countries that faculty members went to for their studies.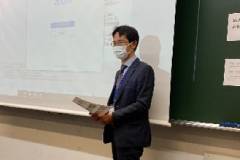 Moreover, Umemiya and Kayashima reported on the results from a case study that consisted of quantitative and qualitative studies conducted at Institut Teknologi Bandung, Indonesia. They shared cases to show that the study abroad experience is making a positive impact on activities by faculty members in many ways and that faculty members who came back from different countries are conducting international activities by leveraging their international networks.

The commentator brought up topics including the domestic rippling effects of hybrid-learning implementation and studying abroad.


How Overseas Offices Address the Issue of Overlapping Institutional Environments
Fushimi Katsutoshi, research fellow, participated in the general oral presentation session "Aid Organization, Economic Growth and Poverty" (in English) and shared the so-far outcomes of the research project titled "Measures to Address Institutional Duality: a Case Study of Overseas Offices of a Bilateral Development Cooperation Agency." Fushimi explained that overseas offices are placed in two institutional environments: one is that of the home country and the other is that of the host country. Hence, they must meet regulatory, normative, and cultural requirements of the host country, while adhering to the rules of the home country by ceremonially implementing organisational practices. He argued that although such ceremonial implementation is normally seen as a nuisance, it serves as a safeguard for overseas offices that must operate development projects under overlapping institutional environments.


Adaptive Peacebuilding: A New Approach for Sustained Peace in the 21st Century
Prior to the upcoming publication of the academic book titled "Adaptive Peacebuilding: A New Approach to Sustaining Peace in the 21st century," which is the final outcome of the research project "Contextualizing International Cooperation for Sustaining Peace: Adaptive Peacebuilding Pathways," some of the outcomes were shared at the JASID roundtable. The following presenters shared outcomes of case studies exploring approaches adaptive to the context of each conflict in Syria, Palestine, East Timor, and Mozambique: Muto Ako, executive senior research fellow, JICA Ogata Research Institute; Tateyama Ryoji, professor emeritus, National Defense Academy; Tanaka-Sakabe Yukako, assistant professor, Hitotsubashi University; and Rui Saraiva, research fellow, JICA Ogata Research Institute, respectively. Questions came from Kubota Yuichi, associate professor, Nihon University, and Fushimi Katsutoshi, research fellow, JICA Ogata Research Institute, who served as panelists, as well as from the floor. Active discussion on topics such as the importance of listening to local voices took place.



Sports and Women in the Eyes of the Participants of National Sport Events in South Sudan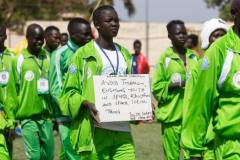 In the session "Gender and Development," Furukawa Mitsuaki, professor, University of Shizuoka, reported on a study with the theme "sports and women in the eyes of the participants of national sport events in South Sudan," based on the research project by the JICA Ogata Research Institute titled "Study on Peace and Development Through Sports." Questions on many topics including how sports are positioned in South Sudan, the relationship between this positioning and the background of the athletes, reasons why women continue to play sports, and changes in male mindsets, came from the commentators and the floor, making this a very productive session.