Two years have passed since the arrival of 19 first round participants of "the Japanese Initiative for the future of Syrian Refugees" (JISR) in September, 2017. All of the participants have been working very hard in their respective master's degree courses. Among them, four are due to complete their own master's degree course in summer this year and each will be starting work at a Japanese company. We have invited them to reflect on their study, life and efforts in their last two years in Japan and on their hopes for the future in this program news.
Mr. A.A.
When I arrived in Japan two years ago, I was so excited to find myself in my new environment. What was difficult was learning to speak Japanese. As the teaching at university was in English, it was not difficult to follow. In contrast, however, there were not many opportunities for me to practice spoken Japanese even though I studied Japanese vocabulary and grammar. The turning point was meeting a Japanese family and my spoken Japanese started to improve thanks to my conversations with this family.
After completing my master's degree course, I plan to work for an IT company to make the best use of my specialist knowledge of AI. I am feeling excited again as I will soon be working in the real world.
Mr. A.H.
When I came to Japan two years ago, I hoped that I would be able to do something that hadn't been possible until then. At the same time, I worried about the different culture and difficulty of learning Japanese. However, I gradually realized that I need not worry about these things if I simply communicated with other people with honesty and a smile. I have come to understand through my student life as well as daily life that Japan is a peaceful and safe country with hard working and gentle people. As my Japanese language ability improves, my confidence grows. I will soon start to work at a Japanese company and I hope that I will continue my life in Japan and contribute to the company I work for.
Mr. A.B.
After arriving in Japan, I felt slightly demoralized by the cultural differences and difficulty of the Japanese language. I also had to get used to living life on my own. My exchanges with many different people at a hostel for international students and learning to speak Japanese made life much easier and I began to feel that my new life in Japan was fulfilling. I have visited many places in Japan with Japanese friends as I want to understand and know Japan better. I now enjoy sashimi (raw fish) which I didn't much like to start with. I have put a lot of effort into finding a job so that I can find employment before my life as a student comes to an end. As the practice of job hunting in Japan is quite different from that in Syria, I have been helped by many people to learn how to find recruitment information, how to prepare my CV and how to go through a job interview. As a result, I have been successfully accepted by a company which develops software where I can make use of my specialist subject. I am determined to further improve my Japanese so that I can discuss issues with clients in Japanese and positively contribute to my company.
Mr. Ghaith Alzin
Reflecting on the last two years, I really believe that I am very lucky to have been accepted as a JISR participant. I am grateful to all the people who have made it possible for me.
At my graduate school, I am very impressed by the polite behaviour of the students. Unlike the passive learning I experienced in the past, graduate school in Japan has taught me the importance of thinking for myself and actively pursuing my own studies with the guidance of my tutor. My two years in Japan have taught me that whatever you do rebounds on oneself. I've also learned if I make sincere effort, the people around me will encourage and even help me. I believe that such understandings have changed me internally.
From this autumn, I will be working as an engineer at a Japanese company. In the long run, I would like to obtain a Ph.D. in Japan before returning to Syria. As it is essential to foster a new generation of Syrians for the reconstruction and peace of my country, I want to try to establish a new university and teach there.
We sincerely hope that they will thrive at their new companies and in Japanese society in general, making the best use of what they have learned in the last two years. We also hope that they will eventually become leaders in Syria's reconstruction and peace building while acting as a bridge between Japan and Syria.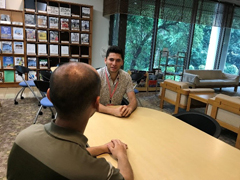 Mr. Ghaith Alzin (facing) and Mr. A.A. chatting together.
*The interviews with the four JISR participants were held in August, 2019.