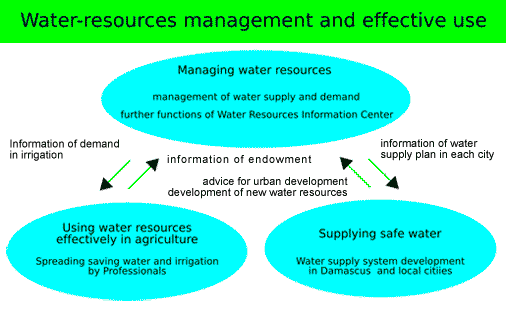 Managing Water Resources
Planing and Running general water resources policy which is base on the information of water supply and demand from the point of view of the whole Syria areas should be expected. However, no system of the basic statistics of the water resources endowment and consumption has been established. Consequently, we will cooperate to make a system of collecting and maintaining information which is based on general water resources management.
Water Resources Information Center in Ministry of Irrigation
Professionals: between June, 2002 and June, 2005, by the method of partly consignment of business activities.
Grant Aid: providing observation equipment for water resources, E/N sum total of 850 million yen.
Planing of education by using Japan Overseas Cooperation Agency's assignment of international students of Ministry of Education and the assignment of the long term education.
Supplying Safe Water
We have supplied safe water stably by upgrading pipe lines and providing new pumps for depression of water in relation to water leakage with depression of pip lines and new housing land development in the capital area of Damascus, that is, Damascus city and the suburb. In addition, we will support new origins of water and rehabilitation of the existing water supply facilities to manage depression of water in summer particularly.
Plan of maintaining water supply pipes in Damascus city by Grant Aid of 1.49 billion yen for three years.
Experts of water leakage, Senior Volunteers dispatched.
Plan of water supply development in the Damascus suburb by Grant Aid of 2.39 billion yen within the first term and the second.
Using Water Resources Effectively in Agriculture
Agriculture consumes more than 80 percentage of water supply. How to use them effectively is the big problem of the water resources and agriculture. Consequently, we will support to upgrade and spread techniques of saving water and irrigation. In addition, we will support to agricultural experiments and research with the cooperation of ICARDA to develop techniques and seeds suitable for the natural conditions in each area.
Spreading saving water and irrigation by professionals.
The term: from October, 2004 for three years.
Planting in the pilot areas, Japan Overseas Cooperation Volunteers of rural development.
Education in the third countries about water resources management.
Education in the third countries for the Middle East countries by ICARDA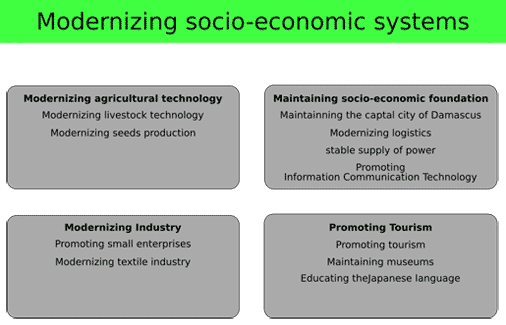 Modernizing aAgricultural Technology
Modernizing Agricultural Technology
Including developing livestock system, shortage of animal doctors who can handle livestock disease in a right way in the fields causes low productivity. Consequently, we will try to upgrade the education in the faculty of veterinary science, and upgrade the practical technique and faculty of the animal doctors including those who graduated from the universities. Moreover, we will try upgrade the animal health environment for protection by livestock technique.
Plan of upgrading clinical diagnosis for livestock by professionals
between January, 2004 and December, 2005 in the faculty of veterinary science,Bath University.
Veterinary science by Senior Volunteers for two years since October, 2002 in Dairy Corporation.
Modernizing Seeds Production
Increasing food and upgrading agricultural productivity give us an important problem. This means that suppliers need to provide the good quality of seeds stably. We have provided equipment fro stable production of seeds of wheat and potato so far. We will provide technical cooperation continuously to stabilize the above equipment.
Supplying the fine quality of seeds stably with Grant Aid by the experts and seniorvolunteers in eeeds increase corporation
Plan of upgrading productivity of seeds with Grant Aid in 2001, 2002, E/N, totally 900 million yen
Experts of potato tissue culture dispatched between May, 2002 and May, 2005. In addition, Senior Volunteers planned in the fields of maintenance, breeding, etc.
Modernizing Industry
Solving unemployment and supplying job opportunities are expected in the field of industry. Including modernizing the national divisions, private companies need development. For the above targets, we will provide support of modernizing textile division which is a priority and cooperation which Japan Overseas Cooperation Agency has done with, such as product management, quality control, export know-how, etc for factories of small enterprises.
Plan of building up the textile schools with Grant Aid by senior volunteers
Plan of providing equipment for Damascus Textile Industry Schools with Grant Aid of 380 million yen.
In the fields of spinning, dyeing, clothing design, Senior Volunteers dispatched.
Support for small enterprises, such as Damascus Industrial Chamber of Commerce, Aleppo Industrial Chamber of Commerce
Damascus Industrial Chamber of Commerce: in the fields of upgrading the quality of paper products and upgrading the organization of the Chamber of Commerce Senior Volunteers dispatched.
Aleppo Industrial Chamber of Commerce: in the field of textile products marketing, etc. , senior volunteers dispatched.
Maintaining Socio-Economic Foundation
Modernizing industries and maintaining the socio-economic foundation suitable for free markets should be expected quickly. Consequently, we will promote maintaining mainly the enormously undeveloped fields, such as logistics, urban functions, Information Computer Technology, including urban development to solve the depression of the urban functions which is derived from permanent traffic jam, maintaining the infrastructure such as power plan, power experts education to improve the electricity gap between supply and demand.
Modernizing logistics in Ministry of Transportation
Experts with development investigation propose how to upgrade logistics.
Investigating whole urban plan in the capital city, Damascus by Experts with Development Investigation. Making the master plan for using land and maintaining all facilities to maintain the functional city preparing for the future.
Stable Supply of Power in Power Distribution Corporation
Experts: advising the power policy, estimating the plan for new power plants
Education for the maintenance personnel of thermal power plants in Jandaar Power tTechnology Education Center by Senior Volunteers.
Promoting Information Communication Technology
Network Engineers (Senior Volunteers) will be dispatched to the ministries to support the construction of LAN; Computer engineers (Japan Overseas Cooperation Volunteers will be dispatched to support home pages design.
We have made networks and grown up administrators by the opportunities of education by country individually and local education so far.
Promoting Tourism
The sector of tourism has 7 % of General Development Production, 3 % of employment, foreign money income of a billion dollars in a year. Syria has the large quantity of historical and cultural heritages, but loss of infrastructure for tourism and invitation for international tourists. Consequently, to obtain foreign money instead of petroleum and affect employment, we will provide technical cooperation in the field of tourism.
Tourism
Experts of touristic promotion in Ministry of Tourism
museum engineer (Senior Volunteers) in Ministry of Culture, Museum of Aleppo.
fix of documents by Japan Overseas Cooperation Volunteers in Ministry of Culture, Documentation Center.
Managing museum by education by area individually