On February 10, 2020, at ECU911 of Quito City, the sixth Joint Coordination Committee meeting was held with the attendance of 52 officials from the involved institutions, including the National Service of Risk Management and Emergency (SNGRE ), the Ministry of Urban Development and Housing (MIDUVI), pilot cities, Japanese Embassy in Ecuador, JICA Office in Ecuador and PCSR experts.
After the fifth Committee meeting held in August 2019, SNGRE and MIDUVI reported the achievements progress of each Output and each pilot city reported on the current situation, achievements and inconveniences in the development of the activities. In addition, Mr. Satoru Tsukamoto, Chief Advisor of JICA Experts Team indicated the schedule of future activities.
The pilot cities have worked on the formulation of the Risk Reduction Agenda, systems in construction management and the establishment of regulations, taking as a reference the "Guidelines for the Preparation of the Risk Reduction Agenda" and the "Building Regulation Management Handbook" developed within the PCSR framework.
In 2020, seminars are planned not only for pilot cities but also for municipalities nationwide, so pilot cities are working to support neighboring cities in the formulation of the Risk Reduction Agenda and in the management of construction systems. Through training in Japan, seminars and activities of Japanese experts, we have confirmed that our activities are progressing smoothly in order to achieve the objectives of the project and deploy them at national level.
The objective of this project is that both SNGRE and MIDUVI have a technical support system for local governments so that they can reduce the damage caused by earthquakes and tsunami in Ecuador, and thus contribute to one of the global objectives of the "Sendai Framework for Disaster Risk Reduction 2015-2030", which seeks to "substantially increase the number of countries where disaster risk reduction strategies are formulated at national and local levels by 2020." We will continue to promote activities while strengthening cooperation between the parties involved in the project and contribute even more to the overall objectives.
Created by Yu Kumagai (CSR Project Coordinator by JICA)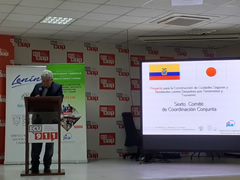 Remarks by Architect Macchiavello Minister of Urban Development and Housing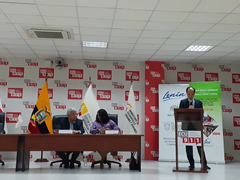 Remarks by Mr. Kumakura First Secretary of the Embassy of Japan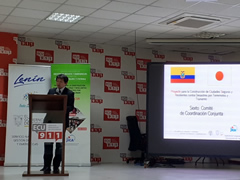 Remarks by Mr. Ishikawa Representative Resident of JICA Office in Ecuador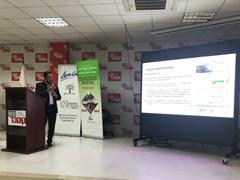 Presentation by Mr. Celorio Director of Strengthening and Capacity Development in Risk Management of SNGRE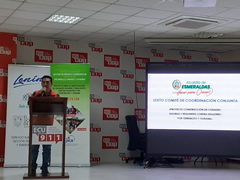 Presentation by Mr. Estupiñan Coordinator of Municipal Unit of Risk Management and Climate Change of GAD Esmeraldas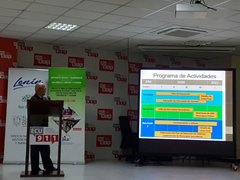 Presentation by Mr. Tsukamoto Chief of Advisors of JICA Experts Team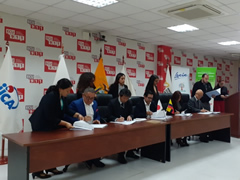 Signature of the 6th JCC minute
Closing Remarks by Mr. Espinosa Deputy Secretary-General of SNGRE