Creating a Sound Circular Material Society in the Pacific Region, Japanese Cooperation in the field of Solid Waste Management
This pamphlet introduces Japan's cooperation in the field of solid waste management in the Pacific regions. In the island states, there are unique challenges for island countries such as small land area, increase and diversifying in waste due to changes in lifestyle, and the shortage of treatment facilities and human resources. To approach these problems, from 2000, JICA has been developing human resources and reinforcing administrative systems for solid waste management in the island states of the Pacific region. Since 2017, JICA has been implementing the "Japanese Technical Cooperation Project for Promotion of Regional Initiative on Solid Waste Management in Pacific Island Countries Phase II (J-PRISM II)" targeting nine countries. We continue to aim forming a sound circular material society in the Pacific region.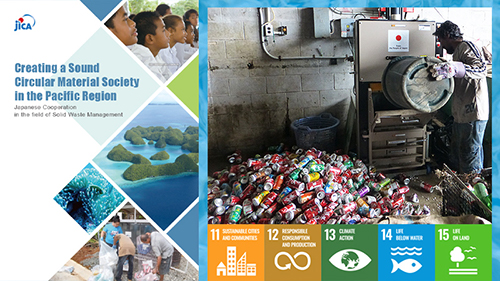 Special Release! English and French versions of a comic essay. After reading, you will want to separate the garbage.
The current state of waste management and the environmentally friendly way of life in Japan is described by a garbage collector. The author, Mr. Takizawa, who works two jobs as a comedian and a garbage collector to support his family, introduces the garbage problem, the people who support the town's sanitation and its connection to the community and environment in an easy-to-understand manner, with a touch of sadness and joy in his daily life.
JICA translated selected episodes from the two comic books with the permission of Mr. Takizawa and the publisher (Kodansha); "Daily Life of a Garbage Collector" (Japanese) (external link) and "Daily Life of a Garbage Collector: Mirai (Future)" (Japanese) (external link) into English and French and publishes them on JICA's website. These episodes will be useful for raising public awareness on waste management and for environmental education.