JICA's Intervention and Response to Water, Sanitation and Hygiene in the COVID-19 Crisis
JICA considers that the main areas of support needed in WASH in relation to the COVID 19 crisis are as follows:
Security of revenue of water utilities and continuity of water services,
Provision of water and sanitation services to vulnerable areas, such as informal settlements and urban slums,
WASH for essential facilities, such as schools and health facilities,
Mainstreaming of handwashing,
Knowledge sharing of lessons learned and experiences on countermeasures related to COVID 19, and
Creation of resilient WASH service for the with- and post-corona eras.
JICA is committed to respond timely to meet these needs through partnerships with other development partners including NGOs, comprehensive multi sector support, enhancement of handwashing awareness-raising activities, and knowledge creation.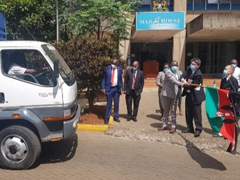 Flag off of a truck loaded with chemicals at the Ministry of Water & Sanitation and Irrigation, Kenya
JICA Handwashing for Health and Life Campaign Logo
Research and survey related to WASH and the COVID-19
JICA has been implementing the following project research and survey. JICA will periodically update the information.
(1) Project Research "The COVID-19 Crisis Response and Lessons Learned in the Water, Sanitation and Hygiene (WASH) Sector"
Project Research Outline_ The COVID-19 Crisis Response and Lessons Learned in the Water, Sanitation and Hygiene Sector (PDF/313KB)
Project Research Interim report_ The COVID-19 Crisis Response and Lessons Learned in the Water, Sanitation and Hygiene Sector (PDF/1.46MB)
Projet Brief Note_ The COVID-19 Crisis Response and Lessons Learned in the Water, Sanitation and Hygiene Sector (PDF/1.87MB)
(2) "Data Collection Survey on Improvement of Hygiene Behavior in Schools and Health Care Facilities in Collaboration with International NGOs"
Outline_ Data Collection Survey on Improvement of Hygiene Behavior in Schools and Health Care Facilities in Collaboration with International NGOs (PDF/174KB)
Topics