News
1. About RAMP
(1) What is Road Asset Management?
Asset management of social infrastructure is a concept of systematic and strategic management of public infrastructure, which was originally developed in the United States of America in the 1980's, when the country was facing problems of infrastructure deterioration. Under this concept, social infrastructure is regarded as public asset, and its value shall be maintained and improved systematically and strategically. (cf. Japan Association of Asset Management)
Road asset management is a type of infrastructure asset management which is applied to road assets, such as roads, bridges, and other road structures. The purpose of the concept is to implement strategic management plan so as to minimalize life cycle cost of road assets. , through the following activities; to check current situation properly, to expect degradation, to repair or reinforce them at best timing.
(2) Implementation Structure of RAMP
JICA established Road Asset Management Platform (RAMP) in October 2017 for the following purposes;

To develop a plan to support road asset management in developing world where increasing demands for proper infrastructure management are expected.
To support overseas expansion of Japanese companies with road asset management related technologies.
To train core human resources who are expected to lead road asset management in developing countries.
(3) Collaboration
The platform has been collaborating with Infrastructure Maintenance, Renovation and Management of Cross-ministerial Strategic Innovation Promotion Program (SIP), which is organized by the Cabinet Office of Japan, to support overseas expansion of domestic advanced technologies. After completion of SIP program, JICA began to collaborate with JAPAN SOCIET CIVIL ENGINEERS (SCSE).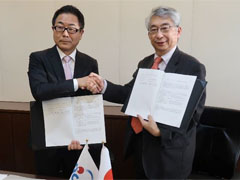 Exchange of MOU between JICA and JSCE
2. Our Activities
(1) Utilization of Japan's Technologies
We have supported to establish effective and efficient infrastructure management system by using Japan's road management technologies in JICA's Technical Cooperation projects. We have introduced several technologies; bridge inspection with drones, AI detection of damaged parts, dynamic response intelligent monitoring system? (DRIMS), repair materials, slope measuring devices, and so on, so as to support adaptation and expansion of technologies of Japanese private companies.
[Example]

(2) Training Program
In order to train core human resources, JICA has been accepting officials and engineers of governments of various countries as short-term trainees, and international students in doctoral and master's courses. We will have accepted 27 international students from 12 counties by 2020.
In 2020, we held the workshop for 6 international students studying in domestic universities under RAMP Training Program. This year, it was difficult to hold face-to-face training and workshop due to the novel coronavirus outbreak, so the workshop was conducted online.
In 2019, we held an intensive program for international students during their summer vacations. In this program, the students joined lectures on current situations of public infrastructure in Japan and tours to road asset management activities (universities, Expressway, and private enterprises). This program was held by JICA, JSCE, and UNCRD.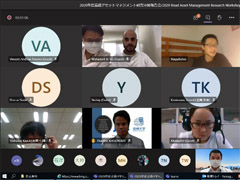 Online workshop for international students (2020)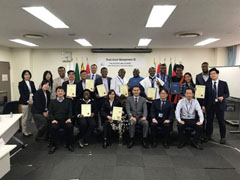 Completion ceremony of short-term training program (2020)
(3) Event and Public Relations
We have held seminars 8 times in the aim of providing domestic companies with opportunities for overseas expansion.
This platform's activities appeared in JCSE Magazine, newspaper related to bridges and so on.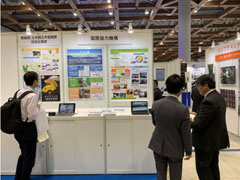 JICA's booth at INFRATECH 2019 at Tokyo Big Sight
3. Contact Information
If you would like further information about RAMP, please feel free to contact us:
Team 1, Transportation Group, Infrastructure Department, JICA
E-mail:
Ota.Yuki@jica.go.jp
Takahashi.Masamune@jica.go.jp
Ashino.Masato@jica.go.jp