The KAIZEN Day is an event which is devoted for promoting KAIZEN and knowledge sharing on its importance and good practices obtained in its implementation. The first KAIZEN Day event was held on 19 August 2020 in Dodoma and was graced by the presence of Prof. Riziki Shemdoe, Permanent Secretary of the Ministry of Industry and Trade (MIT), and Prof. Sylvester Mpanduji, Director General of the Small Industries Development Organization (SIDO). Other stakeholders including representatives from different Regional Secretariats, Ministry of Health, Tanzania Private Sector Foundation (TPSF), Tanzania Chamber of Commerce and Industry (TCCI), CRDB Bank, etc., were also in attendance.
The colorful event involved the launching of activities of both the "Framework for Quality and Productivity Improvement (KAIZEN) in the Manufacturing Sector 2020-2030" (KFM) and the launching of the "Industrial Cluster Development Operational Manual" which are available in both English and Kiswahili languages. The three outstanding model KAIZEN enterprises in Tanzania, namely, the Arusha-based "A to Z Textile Mills Ltd." and the Dar es Salaam-based "Shelys Pharmaceuticals Ltd." and "Tanzania Brush Products Ltd." participated in the event as well, and lively presented their KAIZEN experiences to audience.
The KFM is a tool used to expand the KAIZEN movement to cover the whole nation through a well-designed KAIZEN training program, a sustainable mechanism of KAIZEN promotion, and an effective strategy for KAIZEN dissemination for realizing further industrialization in Tanzania.
On the other hand, the Industrial Cluster Development Operational Manual is a quick guidance manual, which helps to sensitize high-ranking officials and the general public to strategically enhance industrialization of Micro, Small and Medium Enterprises (MSMEs) which represent a large part of Tanzanian industry.
In Tanzania, two technical cooperation projects, i.e. the "Project on Strengthening Manufacturing Enterprises through Quality and Productivity Improvement (KAIZEN)" and the "Industrial Cluster Development Support Project" has been implemented by MIT and SIDO, in collaboration with the Japan International Cooperation Agency (JICA), since 2013. This year, the three parties (MIT, SIDO, and JICA) combined the two projects to provide KAIZEN service to Industrial Clusters for disseminating KAIZEN nationwide, with a special focus on MSMEs. Moreover, the three parties have worked together on the development of both the KFM and the Industrial Cluster Development Operational Manual.
JICA will continue supporting the Government of Tanzania and Tanzanian industries through its technical cooperation to support their KAIZEN and Industrial Cluster Development activities across the whole country.
---
"KAIZEN" is originally a Japanese word meaning "Improvement", and a management philosophy and know-how for continuous quality and productivity improvement of concerned organizations. It is also a human-oriented approach fostering teamwork, mindset change, self-reliance, creativity, and ingenuity to come up with ideas for solutions to the problems faced in Tanzania.
"Industrial Cluster Development" is an approach which aims to drive industrialization by taking advantage of clustering, grouping geographically proximate and interconnected companies and associated institutions in a particular field. Encouraging proactive involvement of various actors along and around value chains, and inducing collaboration among them to help promote innovation and local industrialization.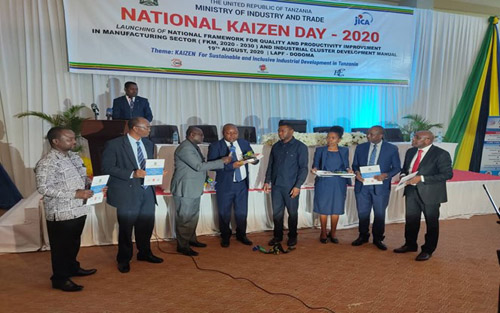 Prof. Riziki Shemdoe, MIT-PS, and Prof. Sylvester Mpanduji, SIDO-DG, launching the Framework for KAIZEN in Manufacturing Sector 2020-2030 and the Industrial Cluster Development Operational Manual on 19 August 2020 in Dodoma.
For further information, please contact:
JICA Tanzania Office, P.O. Box 9450, Dar es Salaam,
Tel: 022-211327/30 Fax: 022-2112976
Ms. Hiroko Makita Makita.Hiroko2@jica.go.jp
Ms. Mariam El Maamry Maamry-Mariam@jica.go.jp
About JICA (Japan International Cooperation Agency)
An incorporated administrative agency in charge of administering Japan's ODA (Official Development Assistance). It is one of the world's largest bilateral aid agency supporting socio-economic development in developing countries and in different regions of the world.
In Tanzania, JICA has been a long partner of Tanzania for more than 50 years in many sectors since 1962.