An online event which brought together some Japanese companies and some ex-participants of JICA training programs (JICA Alumni) was held on September 3, 2021. The main objective of the event was to enhance the relationship between Tanzanian and Japanese private sectors by utilizing JICA's resources and network through JICA Training Programs which started 59 years ago, in 1962.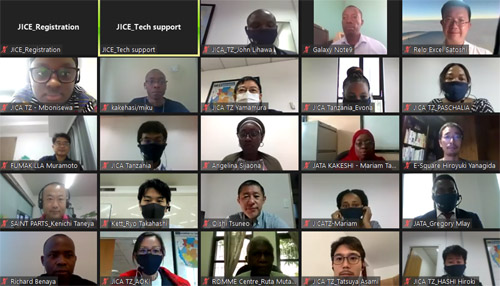 About 60 participants drawn from agriculture, industry and health sectors joined the event.
Through the event, Japanese companies were informed of possible investment opportunities in Tanzania in the above sectors through the various presentations which were made by the JICA Alumni. Moreover, referring to the experience of a resident Japanese company, Saint Paints Co. Ltd., they were given first hand and practical information on how to start a business in Tanzania and how to sustain it for the benefit of the Japanese and Tanzanian people.
Pertinent issues such as lack of information on areas to invest, how to start a business in Tanzania, possible collaboration with Tanzanians and sharing of experience between local and Japanese companies etc. were deeply discussed during the event.
However the key message which came out quite clearly in event was the advice given by the resident Japanese company to possible future Japanese investors: "Before deciding to invest in Tanzania please do come and observe the situation yourselves instead of solely relying on reports given by consultants as has hitherto been the case for many Japanese companies".
On the whole the event was fruitful as almost all participants responded they were satisfied or very satisfied with this event. Through the event the JICA Alumni were able to become bridges between Tanzania and Japan by sharing useful information to Japanese companies by utilizing their experience both in Japan and Tanzania. On the side of the Japanese companies they were able to get information on the areas of their interest and were guided on where to go next.
JICA will continue to support the JICA Alumni in order to continue becoming bridges between Tanzania and Japan and in so doing address the social and economic challenges of Tanzania and also attract more Japanese companies to invest in the country. Currently there are 40 Japanese companies with various investments in the country.
About JICA (Japan International Cooperation Agency)
An incorporated administrative agency in charge of administering Japan's ODA (Official Development Assistance), is one of the world's largest bilateral aid agency supporting socio-economic development in developing countries in different regions of the world.
In Tanzania, JICA has been a long partner of Tanzania for more than 50 years in many sectors since 1962.
For further information, please contact:
JICA Tanzania Office, P.O. Box 9450, Dar es Salaam,
Tel: 022-211327/30 Fax: 022-2112976
Ms. Hiroko Makita makita.hiroko2@jica.go.jp
Ms. Mariam El-Maamry Maamry-Mariam@jica.go.jp